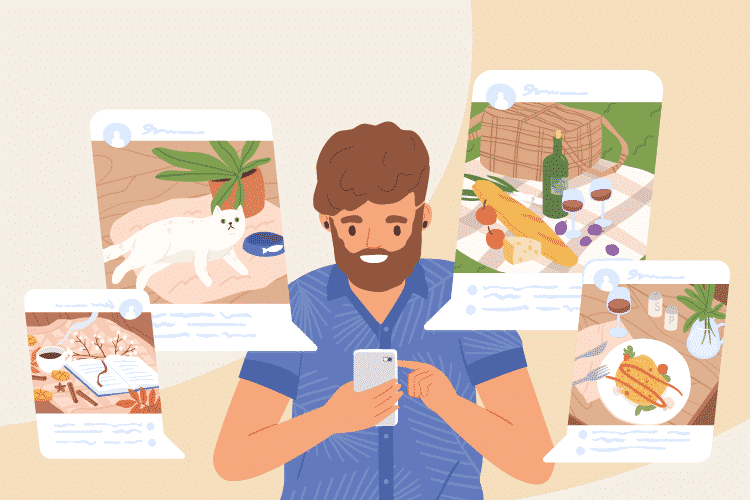 The best TikTok marketing strategies for retailers and SMB Owners
Do you want to be the next brand to make a splash on TikTok like Ocean Spray brand products? If so, here are the top 10 TikTok marketing strategies you need to take your business to the next level. 
1. Use The Most Relevant Hashtags for Your Brands
There are several advantages to TikTok that brands can leverage into marketing success: 
Know your competitors 
Increase the reach of your content
Get more followers
As a growing retailer or small business owner trying to build your brand on TikTok, you should add relevant trending hashtags to your video caption. However, avoid including the most popular generic hashtags because your videos may be drowned in a sea of content if you do. It's best to have your videos stand out in slightly less popular categories.
As with any marketing campaign, the goal is to get your videos viewed by the most relevant people to your campaign.  So don't focus on hashtags just because they are popular.
2. Post Consistently Interesting Videos With Very Clear Descriptions
Reaching a large audience on TikTok isn't just about when you post. How often you post your videos can also impact how your content is distributed on the platform. TikTok recommends posting 1-4 times a day. Plus, consistency is vital to growing your audience.  
The same goes for any paid ads that you run. Don't just put blatant ads online. Even the official ads you post should provide value to your target audience. 
Writing a good video description is also essential for SEO. That's because it'll let Tiktok know what your videos are about when it indexes and offers them to your preferred audience. Don't forget to include your most important keywords in your descriptions. They should make sense and not just be a bunch of random words.
Prepare your descriptions and keep them short and punchy, as screen space is limited. Ultimately, make sure your video is relevant to the audience you are trying to target on TikTok.
3. Team Up With TikTok Influencers in Your Campaign
Just like on Instagram, there are many influencers on TikTok who have built a reputation for themselves through the quality of their content. 
As a result, most businesses build productive working relationships with their potential customers' influencers. The advent of TikTok has even spawned a new wave of influencers, more influential on today's teens and tweens than the conventional movie or TV stars. These are precisely the types of influencers you need to collaborate with when undertaking your TikTok marketing campaigns.
4. Engage Regularly With Your Audience By Commenting And Encouraging Comments on Your Videos
Just like most other social media, you also can engage with people who comment on your videos. Ideally, you want to establish conversations with your potential customers.
Take some time to watch other people's videos, and don't hesitate to make thoughtful and constructive comments.
Also, you need to know that TikTok ranks comments based on the number of "likes" each comment has received. The more insightful your comment is, the more "likes" and comments it gets. Therefore, make sure you think through your comments and make them meaningful. Avoid bland comments like "nice video."
5. Keep-Up With TikTok's Current Trends
As we mentioned earlier, as part of your marketing strategy on TikTok, you can use hashtags to keep track of the most trendy ideas. To find trending hashtags is nothing complicated. Just go to the Discover tab, then tap on Trends at the top of the screen. You can then create and share videos that relate to these trends.
Trends can change quickly, so be sure to follow trends on TikTok regularly so you can modify your content as they change.
The advantage of hashtag challenges is that they are a good way to come up with new content ideas while sending good trending vibes to the algorithm.
Also, look for ways to make your videos unique and special. Don't just copy other users' videos and be like everyone else – remember how important it is to stand out.
6. Leverage TikTok Ads  
TikTok now has formal ads that make it easy to advertise on the platform. 
Some of the types of ads offered by TikTok include the following: 
TikTok's Branded Hashtag Challenge 
TikTok's Branded Hashtag Challenge, also known as HTC, is revolutionizing the nature of the advertising space. The user is served a banner ad that takes them to a page with instructions and rules for the challenge. HTC is changing the way companies communicate with their audience. It turns consumers from passive spectators to active participants.
Have you ever opened your TikTok app and received an ad on the spot? If so, these are called Brand takeover ads. Brand takeover ads use a mix of images, GIFs, and video clips that link to a landing page or hashtag challenge. They appear upon opening the application and present a full-screen video to your target audience. This type of ad allows you to raise awareness and drive direct sales. With this type of ad, you can place your message right in front of your target audience.
These are the video ads that appear between users' videos when you scroll down your "For You" page. These are the ones that are closest to a traditional ad on TikTok. 
TopView Ads are the first message in the feed that appears 3 seconds after you open your app, unlike Brand Takeover Ads.
7. Add a Link To Your Website
Once you hit 1,000 followers, TikTok allows you to add a link to your website on your profile page. You can also add a link in the caption of each video you upload. 
If you make a video that talks about a specific perfume brand, you can add the link to the brand of perfume on your website in the caption of the video.
You can also connect your TikTok profile to your Instagram account if you have one. This will help you grow your audience on both platforms. 
8. Create Videos With Vertical Form
TikTok is a vertical video platform, unlike YouTube. Videos are designed to be shot directly from your smartphone. To start creating content at the correct dimensions, you don't need cameras or external equipment.
Content that you have created for other platforms should not be reused on TikTok, though. So just create videos with TikTok specifically in mind.
9. Add TikTok Effects in Your Videos Posts
To make your videos more attractive and unique, you should always consider adding a special touch to your videos to stand out from the crowd. Adding effects to your videos is a good example.  You can find the effects under the Effects tab, divided into the following categories: 
Trend
New
Interactive
Edit
Beauty
Funny
World
Animal
TikTok also offers a green screen effect. This allows you to use any image you want to replace the background of the video. 
10. Track Results Regularly To Optimize Your Tiktok Marketing Strategies
In the " Settings and Privacy " section, you can track and explore your account's analytics over the last 7, 28, or 60 days or over a customized period in the "Settings and Privacy" section. The data collected will allow you to see which videos have generated the most interest from your audience. Use this information to shape the content you create in the future.
You can also add UTM tags to each of the links you post on TikTok. These tags allow you to track the clicks these links receive as well as behavior from the user.
See Related: Video Marketing Strategies: 7 Ways to Improve Your 2022 Video Creation
Use KORONA POS To Better Market and Grow Your Business 
TikTok is just one of the many tools you need to grow your business. After your marketing strategies worked, your customer base grew, and your sales increased, you need even more leading-edge technology tools to help you achieve higher goals. 
That's where KORONA POS comes in. KORONA POS is a cloud-based point of sale system that helps you embrace new consumer behaviors by equipping your business with future-proof technology. Our unique point of sale system will allow you to better track your inventory management, sales reporting, customer loyalty, employee permissions, payment terminals, eCommerce integration, ticketing, and many more. Plus, our point of sale system is designed for businesses of any size. TRY KORONA POS for free now, and let us help you maximize your business's success.
Learn More

Source