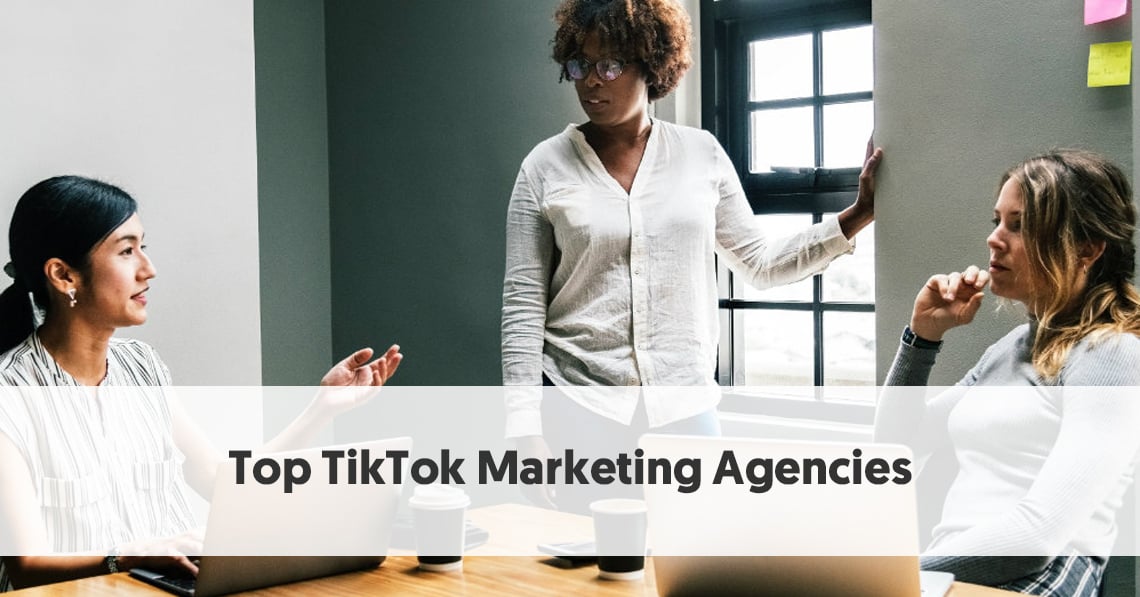 On several occasions over recent years, we have written about the potential of Musical.ly for influencer media marketing. Musical.ly is now TikTok, having combined with an existing social media network of that name. However, the potential for triumphant influencer marketing success is still high. Many top influencer marketing agencies have recognized this and include TikTok in the collection of social networks with which they work. Here are 16 influencer marketing agencies who advertise TikTok influencer marketing amongst the services they offer.
Top TikTok Marketing Agencies for 2021:
1. Fanbytes
Fanbytes is the worlds largest Tiktok influencer network helping brands like Warner, Atlantic and Universal reach younger audience on Tiktok – and with a staff made up of millennials and Gen Z, they fit the bill
Their Gen Z expertise has seen them get investment from the Kamani family -the founders of Boohoo and Pretty Little Thing which is proof of their knowledge of reaching younger audiences. They closely work with global brands to develop campaigns using their expertise of running over 100 Tiktok influencer campaigns.
Whether it's duet chains, transition challenges or meme style content on Tiktok, their knowledge of what works on Tiktok has seen them run viral campaigns such as a Major Lazer campaign which hit the Tiktok trending page and over 50,000 videos created around the song. Most importantly, they're so confident in their knowledge and expertise on Tiktok that they guarantee results and engagement for every campaign they run.
Services Offered: Campaign Management, Influencer Marketplace,
Channels: Snapchat, Instagram Stories, TikTok
2. The Influencer Marketing Factory
The Influencer Marketing Factory states on its website that it "focuses on TikTok as one of the main core social media channels with amazing ROI and results." It believes this because TikTok is the most downloaded social app ever, and because of the viral power of trendy videos generated by a younger generation, compared to other sites like YouTube and Instagram.
The Influencer Marketing Factory acts both as an influencer marketing agency and as a source for industry education. In its agency role, it covers Instagram, YouTube, and Twitch, as well as TikTok, i.e., the youth-focused visual channels.
They begin concentrating on your target audience, looking at both your current and potential customers. Once they have determined the look of your target audience (assuming that it matches the TikTok general demographic) they then match your audience with relevant influencers on TikTok.
The Influencer Marketing Factory then work with the influencers to create the best content for your target audience. The selected TikTok influencers create trendy and viral videos to generate high awareness for your product or service. The Influencer Marketing Factory then tracks every heart and comment to create an extensive report at the campaign's end.
3. Neoreach
Neoreach operates both as an influencer platform and as a full-service influencer agency. It devises strategies for its clients using multiple data sources. Neoreach adapts its strategies to reflect the differences between channels, including TikTok.
Neoreach manages the entire influencer campaign process. Steps include campaign strategy and direction, creative brief development, influencer sourcing and scheduling, influencer contracts and negotiation content licensing and compliance, influencer payments, and detailed reporting and insights. They maintain ongoing relationships for future activations.
One of Neoreach's TikTok customers is Netflix. They decided they wanted to take their influencer marketing efforts to TikTok for the third season of Cobra Kai. Netflix sought creators that would reach a wide variety of audiences and take their creative content to the next level. Neoreach's team has built a comprehensive database, Tikscore, to monitor the fastest growing TikTokers. Neoreach used Tikscore to activate a range of distinct creators on TikTok for the Netflix campaign. TikTok created the interactive Cobra Kai Chop filter for Netflix. Each influencer activated paired the hashtag #CobraKaiChop with their own creative spin on the filter. The campaign achieved over 2.8 million views and helped spike #CobraKaiChop views by over 500 million in the days after original content went live.
4. Upfluence Inc.
Upfluence Inc. manages influencer campaigns both directly for brands and outsourced from other agencies. They help launch new products, increase brand awareness, optimize exposure, and educate audiences.
They provide premium influencer campaign management services, including product placement outreach and influencer event management. 
They also offer creative skills to design state-of-the-art, branded content.  
Of course, for a video-focused app like TikTok, Upfluence can reach out to content creators and create high-quality content through influencer tactics and content strategy.
Upfluence's influencer marketing and partner relationship management ensure smooth communication and high response rates.
The agency works with influencers across the full spectrum of social networks, including TikTok. They help find the best influencers for your target market and campaign. Upfluence uses a dedicated team of influence experts to manage their clients' campaigns.

Whether you wish to sponsor an eSport team, ask a broadcaster for a shoutout, or offer rewards during a tournament Upfluence makes it all possible!…
5. Viral Nation
Viral Nation organizes influencer marketing for their clients across all social platforms, across all categories, and across all levels of influencers and campaigns. They use a six-step full-service process:
Influencer campaign strategy
Influencer sourcing and contracting
Content creation and scheduling
Content goes live
Measure and track
Optimize
Viral Nation makes a point of including category exclusivity and content licensing in all their campaigns.
They do recognize the realities of working on social media for their social campaigns. They believe it is essential in an influencer marketing campaign to add paid boosting to reach the entire potential influencer audiences. Social platforms have made it harder and harder for influencers to reach their entire audience organically.
They also see that White Listing paid social ads from an influencer's profile accelerates credibility and overall audience resonation. On average, ads that appear from an influencer's channel perform 7X better than from a brand's owned channel.
Viral Nation's team can also retarget influencer ads towards specific geographic and demographic regions to reach potential consumers within the brand target audience. Through a landing page, they can also retarget interested customers as a result of the campaign.
Viral Nation also believes in the value of experiential marketing. Influencers often promote, attend, or even broadcast experiential events.
6. Obviously
Obviously is a full-service influencer marketing agency that works with brands and influencers across most social networks, including TikTok. They tailor each campaign to meet the business' needs. They handle all aspects of influencer marketing, offering a full white-glove service for companies that want somebody to help them with their influencer campaigns.
The experts at Obviously have an in-depth understanding of the social media landscape. They will guide you towards the perfect channel for your brand, and make sure you get the most of your influencer campaign. If your brand targets a young audience (with a female bias), then TikTok could well be a perfect fit for your influencer marketing. Obviously will advise you of this, and help you find the ideal influencers for your campaign.
They can manage your network through every step of your campaign, from identifying influencers to managing relationships, to re-engagement.  Obviously alerts influencers when their products have arrived, offers advice on content, and screens posts for quality.
When an influencer has concerns during a campaign, Obviously manages them quickly and positively, keeping them happy and the brand free from stress.
Obviously is the leading influencer marketing agency for Fortune 500 companies. We specialize in providing cutting-edge strategy and world-class service, no matter the complexity or scale of a campaig…
7. SugarFree
Perhaps the most significant coup made by SugarFree concerning TikTok influencer marketing, is that they can claim TikTok to be one of their clients. Not only do they set up campaigns using influencers on TikTok, but they have actually set up an influencer campaign for TikTok itself – helping Tikok launch in the United States and Europe.
SugarFree aims to make influencer marketing a seamless experience. They are a diverse group of marketing professionals, social media gurus, talented creators, and data analysts, all working together. They integrate their team with their clients' to ensure proactive, real-time communication while creating authentic, data-driven campaigns that get to the heart and soul of the brand story.
They can claim a vast network of the best creators whose trust they have earned over time. They are all fully vetted influencers with a proven track record of success. 
SugarFree handle all the behind-the-scenes tasks, from price negotiations that end in legal contracts, to compliance and payment. In between, they handle all the coordination of content deliverables with influencers, keeping campaigns on-time and on-budget. They schedule every post and then stay on top of the campaign as it progresses. Their influencers don't just post and collect their paychecks. They act as ambassadors, staying engaged with their audience, and keeping their content fresh and relevant.
Sugarfree is a leading influencer marketing agency for global brands. We're a diverse group of marketing professionals, social media gurus, talented creators, and data analysts, all working together…
8. Socially Powerful
Socially Powerful calls themselves a global marketing and social agency. They are specialists in TikTok influencer marketing and social strategy. They harness creativity and data to deliver content that resonates with their clients' target audience, precision aligned to meet business objectives.
TikTok is just one of the networks on which Socially Powerful works with influencers. They call themselves platform agnostic and will happily work on all platforms, whether that be YouTube or Instagram, TikTok or Facebook, WeChat or Weibo. They aim to meet the influencer marketing needs of everyone from fast-growing start-ups to the most significant global brands. They work with brands in a wide range of niches, including sports, fashion, technology, gaming, travel, drinks, motorsports, lifestyle and more.
Socially Powerful uses best-in-class technology (both owned and partner) to monitor influencers' performance and audience data, ensuring they blacklist fake influencers, followers, and accounts, counteract fake engagement and performance and discover the influencers nobody else knows about first.
9. SocialMedia One
SocialMedia One takes on the many facets of social advertising, including acting as a social media agency. They're Berlin-Hamburg-Cologne-based and network Germany. They include influencer marketing amongst their product offerings.
SocialMedia One began as an agency in 2015. They see their primary tasks as an influencer agency as promoting the talents of young bloggers/ vloggers and bringing them together with the right customers.
They recognize the importance of TikTok to young people, especially the 8- to 18-year-olds. They see that the youngsters of TikTok will become increasingly important as they age, so they believe in building a network between top TikTok vloggers and brands. They observe that TikTok appears to be at the same point in its growth pattern that Instagram was five years ago.
10. PMYB
British-based influencer marketing agency, PMYB has long recognized the importance of TikTok (previously Musical.ly) to brands that target a young audience, particularly if they have a female slant. TikTok creators are perfect for targeting Generation Z.
PMYB notes that the most vital requirement for a successful social network is for its users to feel they are part of a community. TikTok succeeds admirably in meeting this aim.
Hundreds of the creators that PMYB collaborates with on TikTok go viral (some directly on TikTok, others off it). For example, one of their influencers, @salif_crookboyz, was recently reposted by NBA Basketball player and legend, Lebron James, with the video going on to achieve over 4.8 million views in the space of a day.
PMYB's makes a point of working with the best influencers in a niche – on TikTok, as well as the other networks. Indeed, overall, they have a roster of 17,000 influencers across more than 40 industries. They call their best influencers, Chromo-Influencers™. PMYB rates each Influencer against 46 important data points that they have found contribute to influence. They call these Chromo-Factors. Only the top 3% of influencers are genuine Chromo-Influencers™.
11. WeQ
WeQ is a mobile advertising and branding company based in Berlin. They have recently expanded their offerings by launching the WeQ Influencer Agency. WeQ INFLUENCERS creates influencer marketing endorsement campaigns that place brands in front of targeted social media audiences globally.
They initially offer endorsed native ad campaign on YouTube, Instagram, and TikTok. They probably include TikTok in this initial list because co-founder, Elena Kutsopal ran the first influencer video campaigns on musical.ly (TikTok).
WeQ believes the factor that sets WeQ INFLUENCERS apart is that on top of branding, they also focus on tracking, attribution, and KPI-driven results, to offer high-impact results that will reach 100 million highly-targeted users in 2019. The motto "Built by experts, powered by technology" is embedded within every facet of the organization, from campaign management to optimization.
12. Sociably
Sociably focuses on producing influencer campaigns for the luxury market. They work with TikTok influencers when they have clients targeting the younger end of that market. They recognize that TikTok is one of the most downloaded apps on the App Store and Google Play, boasting over 500 million monthly users across 154 countries.
Sociably understands the nuances and subtleties that define the luxury market and the importance of heritage, craftsmanship and the discerning customer profile. It is this understanding and experience working within the luxury industry which they believe sets Sociably apart from other agencies. They handle all stages of influencer campaigns from strategy and casting through to posting management and campaign-end results.
13. Digital Sukoon
Indian-based Digital Sukoon offers a wide range of digital marketing solutions, including TikTok influencer marketing. They recognize that top TikTok influencers can be highly effective in promoting content for brands targeting the youth sector.
The firm covers more than just influencer marketing and offers a complete digital solution to its clients. They believe in giving peace of mind by working with like-minded people who are experts in their client's industry.
Digital Sukoon works with more than 17,000 influencers across India (across all social networks).
14. Uplab
Uplab Performance and Influencer Marketing Agency knows how to reach teens and young adults through short videos on TikTok. The agency recognizes that with over 1 billion downloads, TikTok is one of the most popular social media platforms of 2019. They aim to help brands reach, engage, and convert people. Uplab also works with Douyin in the Chinese market.
Uplab was founded in 2017 focusing on Generation Z and Millennials. They are a young and multicultural team of influencers, content- and performance marketers spread over Singapore, China, and Europe. They have built a community of over 700 marketers and 500+ influencers, and have hosted events in places such as Singapore, Hong Kong, Shanghai, and New York.
They have worked with SMEs, start-ups, and corporates active in the F&B, tourism, beauty, fashion, real estate, sports, blockchain, FMCG and education industries.
15. Make Honey
Make Honey is a social creative agency based in London. They offer a wide range of social media, creative and content services to help companies grow and globalize. Honey has embraced the Chinese philosophy of continuous improvement to enable us to work better and faster.
They have noticed the rapid rise of TikTok, since the merger of TikTok and Musical.ly. They observe that TikTok has since gained more than 500 million monthly active users – around double that of Snapchat and Pinterest combined, and more than Twitter and LinkedIn.
Make Honey observe how this provides opportunities for marketers, including brand takeovers and sponsored # challenges. They believe TikTok to be a serious contender for the top platform to watch in 2019.
They have noticed that so far only trend-setting brands have created content for the platform. TikTok influencers, such as Tom Hooker (aka OutTheBox) and Vikki Barnham have been much quicker to see the potential of the platform. Both influencers have found it easy to work with top brands, such as the BBC, on TikTok.
Frequently Asked Questions
What are the best TikTok marketing agencies?
TikTok has rapidly become the most talked-about social media video-sharing app of late. It is now particularly beloved by the young. This has provided many marketing opportunities for brands. The agencies we have covered in this article are:
Fanbytes
Upfluence Inc.
SugarFree
Viral Nation
Obviously
The Influencer Marketing Factory
Socially Powerful
SocialMedia One
PMYB
WeQ
Sociably
Digital Sukoon
Uplab
Mediakix
Make Honey
How do you promote music on TikTok?
Although the way people enjoy TikTok has changed in recent years, as its use has skyrocketed, music is still a core feature of the short video social app. This makes the TikTok audience an ideal market for you to promote your music. Begin by uploading your music to TikTok using digital distribution. Then follow other musicians on TikTok and engage with them often. Make and share high-quality TikTok videos regularly, using your music as the soundtrack. Create dances featuring your music.
How do I make my TikTok song go viral?
Ideally, you should upload your song to TikTok. You will find various companies online that can help you with this. One of the agencies in this post may even be able to assist. Otherwise do all the typical activities that support a TikTok video going viral:
Post videos regularly that include your music (in the background of your video if you haven't uploaded it to TikTok)
Collaborate with influencers
Promote a custom hashtag
Create a TikTok challenge using your music track
How does TikTok make money?
Chinese company, Bytedance, owns TikTok. ByteDance is reportedly worth over US$100 billion as of May 2020 and made a profit of $3 billion in 2019. TikTok offers in-app purchases of coins that users give to their favorite creators. Users can purchase a range of coin bundles, from 100 to 10,000 coins. TikTok also now accepts advertising on the platform. It offers a mix of CPC, CPV, and CPA (cost per action) advertising models. TikTok also receives a portion of the money that channel subscribers pay.
How many followers do you need to be a TikTok influencer?
Many TikTok users are considered influencers on the platform. But no set number defines whether you are an influencer or not (on TikTok or any other social network). It all depends on the niche (general topic) of your videos and how important your followers view you. Most influencers would generally be micro-influencers, with 1,000 to 100,000 followers. Some who make videos on more obscure, but specialist topics may have less than 1,000 followers but be considered nano-influencers.
How do you shoot more than 15 seconds on TikTok?
Although TikTok initially limited the videos people made to just 15 seconds, you can now also make or upload videos of up to 60 seconds. To shoot a 60-second video, click on the + button to go to your recording screen. At the bottom, you will see '15s' highlighted. Scroll left on this to select '60s'. If you want to record less than 60s, tap the Timer button and adjust the bar to set your desired recording limit. When you're ready, tap Start Shooting.