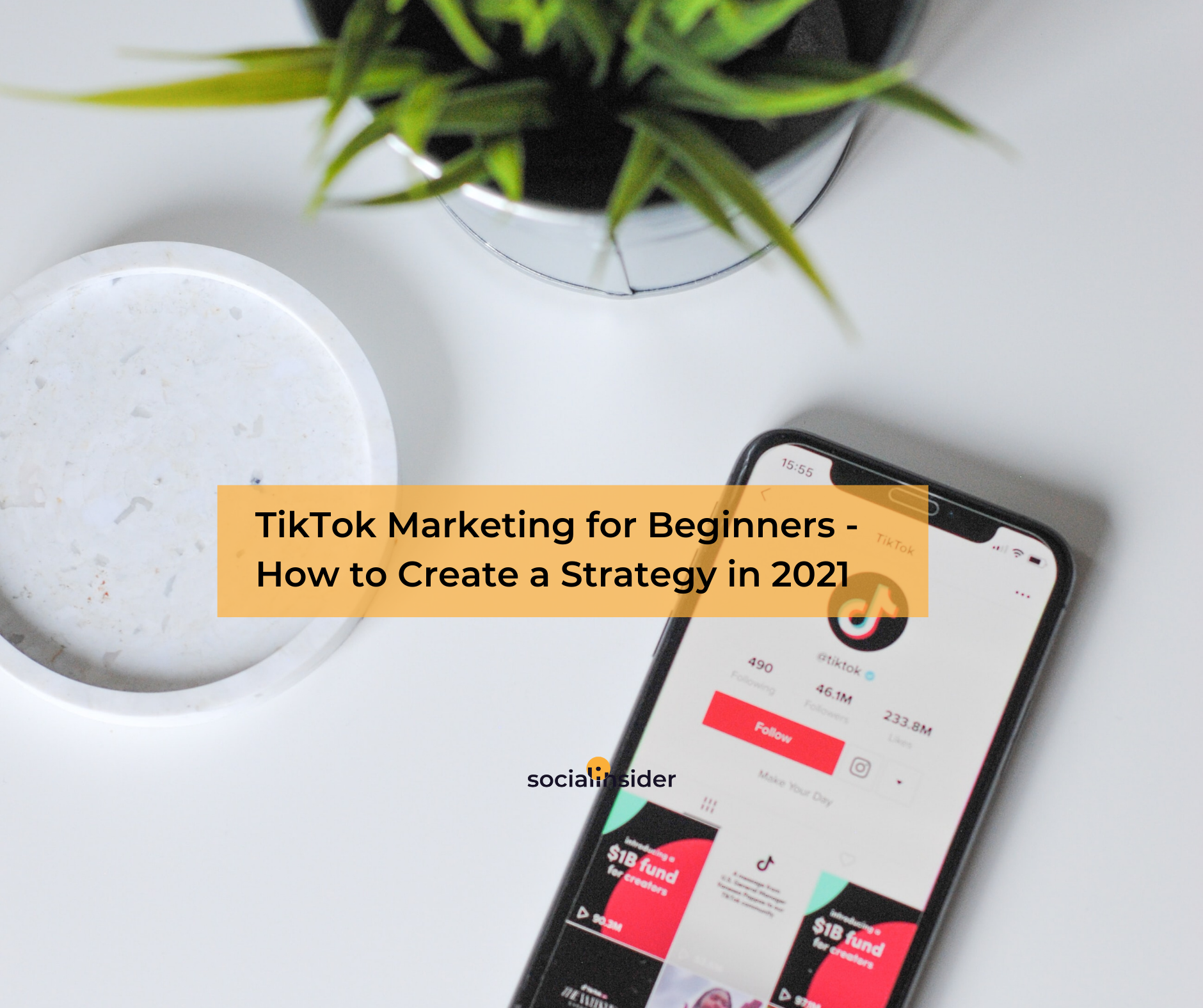 If you're in charge of your brands' strategy, and you want to level up your brand presence in 2021, accept TikTok's challenge and create short videos with a catch.
Keeping up with the latest trends in digital marketing is one of the requirements of a social media manager, and at the moment, TikTok is one of the world's most popular apps.
Be where your target audience is and make efforts into growing awareness.
In this article, I'm going to tell you how to use TikTok, how to make & edit a TikTok video, tips that every beginner should know, and how to create a strategy in 2021.
Create a TikTok Marketing Strategy in 2021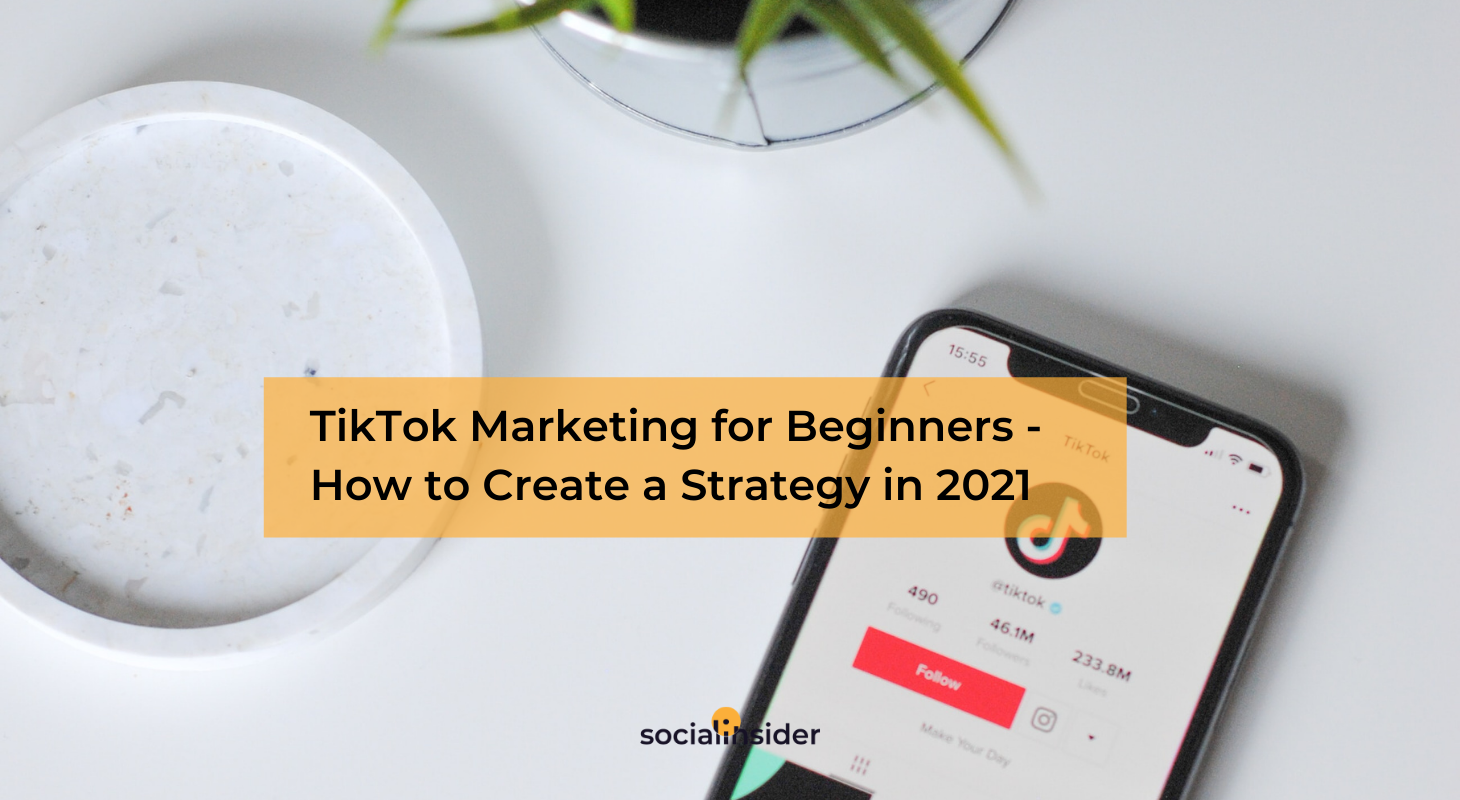 Discover the platform
Why did TikTok become so popular?
How can brands use TikTok to grow awareness?
Most common questions about TikTok:
How to create a TikTok Strategy in 2021
TikTok analytics
1. Discover the platform
You must have heard a lot about TikTok lately. The app has experienced a surprising boost around the globe in a short period, and it is mostly used by people under 24 years old or as you might know them, Generation Z.
Did you know that the app was first launched in late 2016 in China, and was named Douyin? 🤔
It didn't take long to become a sensation, and within just one year, the app achieved 100 million users. Then the company decided to launch a version that could appeal to an international audience, and this is how TikTok was born.
People around the globe are now joining, and it managed to become in just a few years the 9th most used social media app in the world, which says a lot about its future.
According to Statista, it had 500 million users worldwide in October 2019, and the numbers are growing day by day. Because its primary users are people born in the last one and a half-decade, TikTok's growth is not going to stop anytime soon.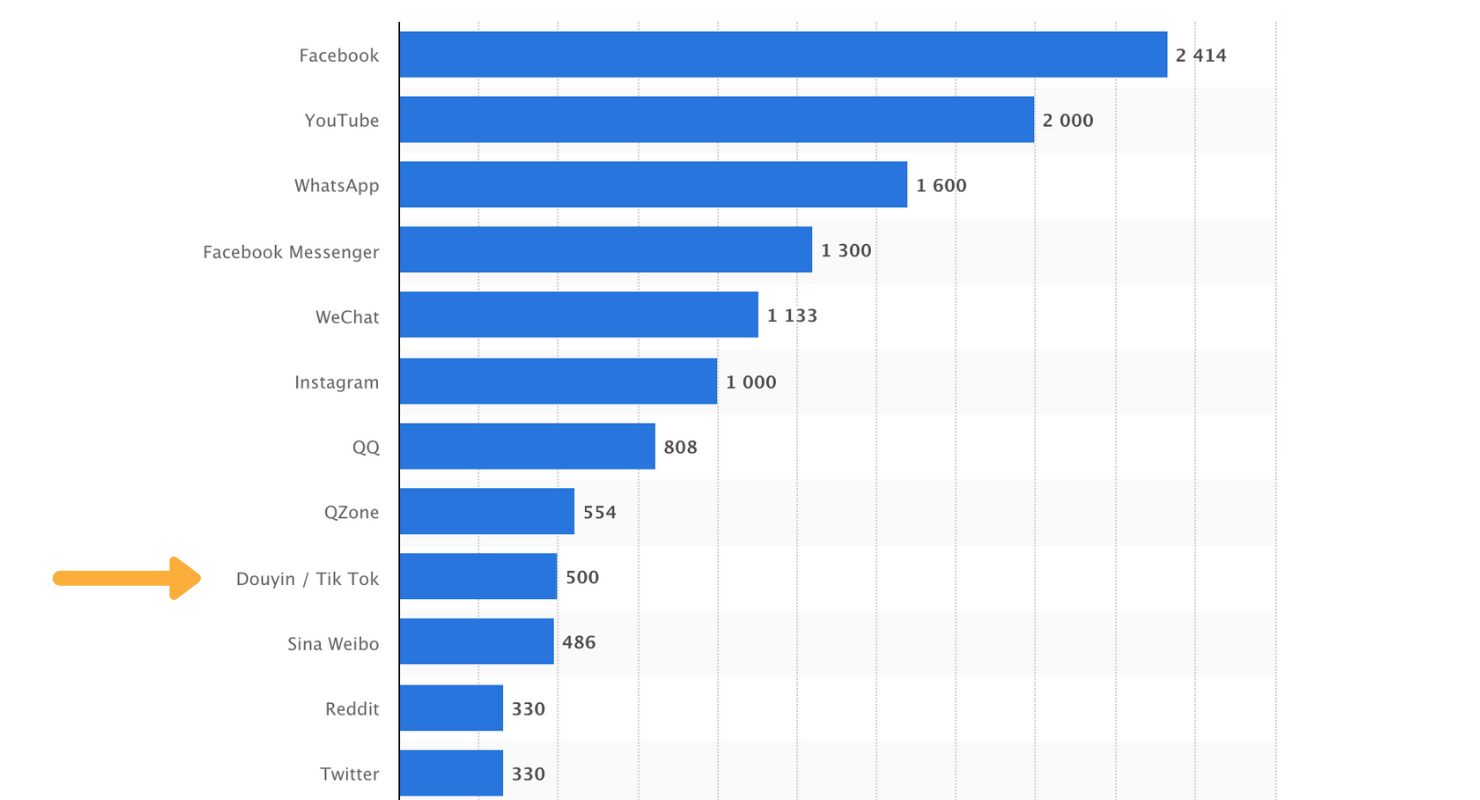 If you've wondered what it is and how it works, well, TikTok is a video streaming and sharing app that allows users to create funny videos on an unlimited number of topics. Videos can be 15 seconds long, but not more than 60 seconds.
All these videos can be jazzed up with music, filter, special effects, and users can even have a lip-syncing option. In a nutshell, TikTok is the social media app that makes the internet fun again.
@chiaraferragni Absolutely Anything (feat. Or3o) – CG5
Wondering why did TikTok become an internet sensation and what are its most important features? Let's find out the answer to all these questions⇣
2. Why did TikTok become so popular?
Even though TikTok didn't manage to gain those users overnight, it still did it in a short period.
When Hollywood celebrities joined the platform, it was clear TikTok was about to hit big.
Justin Bieber, Katy Perry, Cardi B, Camila Cabello, Miley Cirus, Rita Ora, Will Smith, The Rock, Post Malone, Mariah Carey, and much more other are now posting funny or entertaining videos on TikTok.
@ritaora Let You Love Me – Rita Ora
Moreover, the platform's strategy was to partner with local celebrities to promote the app not only at the global level but also on the local one. So a lot of people who work in the entertainment or music industry are now present to create even bigger communities.
3. How can brands use TikTok marketing to grow awareness?
Even though TikTok doesn't offer an advertising option yet, brands can still pay attention to this fast-growing social media app. If you're a social media manager and you laid eyes on TikTok, remember that you must be where your followers are.
No matter if the platform decides to allow ads in the future, it can still be a great channel to engage with celebrities and influencers. You can promote your products and services and create a buzz around the topics you're interested in.
If you've developed a product or service and your target audience consists of young people between 14-20 years old, TikTok is a great option.
This platform is also excellent to publish content that would be otherwise unsuitable on Twitter, for example. Just play around with ideas and see what works best for your brand.
@markusschuster

#coffee #coffeemagic #hocuspocus

Griztronics – GRiZ & Subtronics
A significant feature is that you can post the videos created on TikTok on other social media platforms such as Instagram (both on feed or story), Facebook & Facebook Messenger, Twitter, Email, WhatsApp. This has broken the boundaries and has helped to promote the app even more.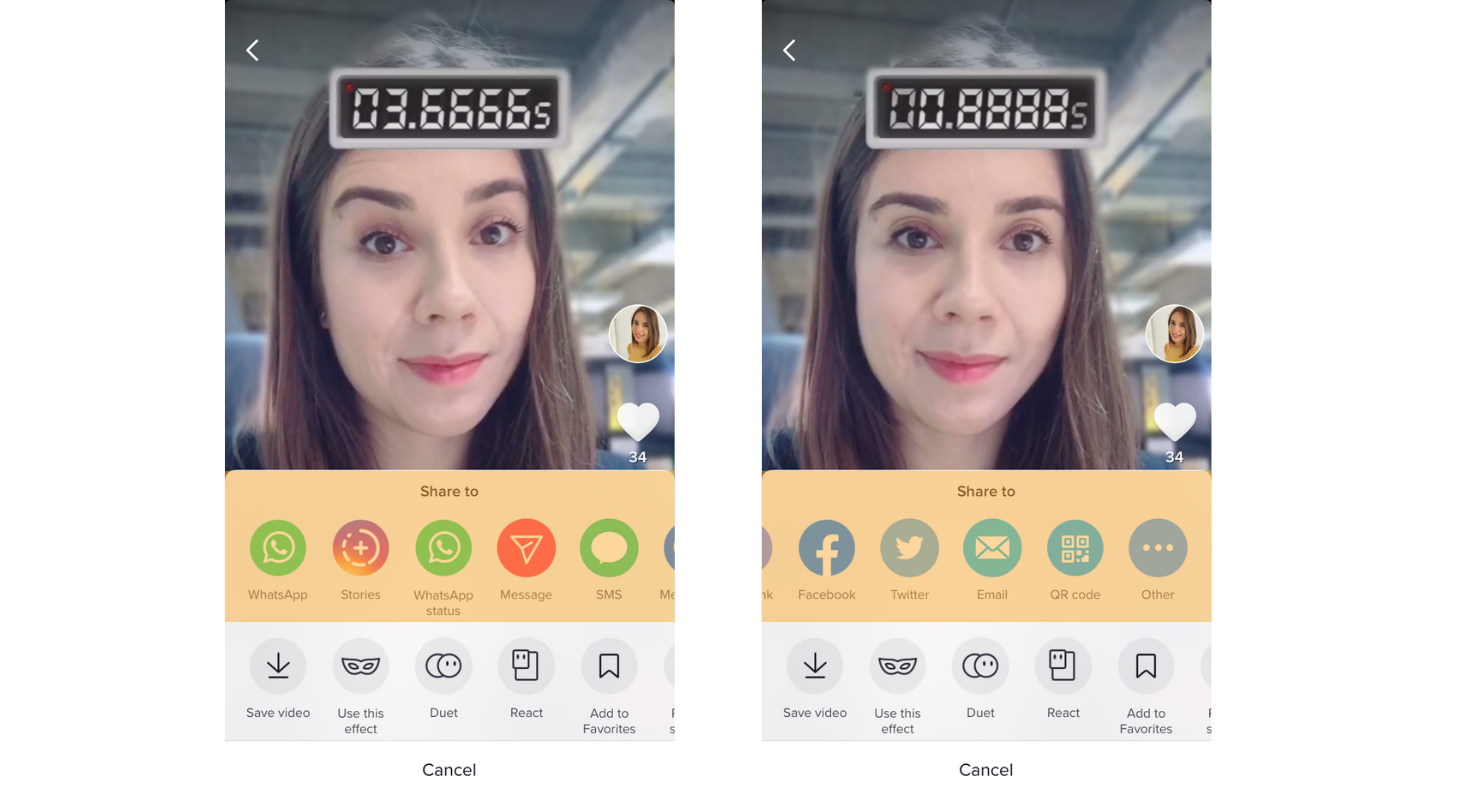 I think it's a great tool and offers creative ways to do videos that you can save to your camera roll and add to your Instagram Stories. (Sue B. Zimmerman – Instagram Expert)
4. Most common questions about TikTok
At first sight, everything seems pretty straightforward, but if you want to use TikTok at its full potential, you surely have some questions. We've tried to answer the most common ones:
How to create a TikTok account
Now that you know what TikTok stands for, it's time to create an account and learn how to use the app.
Download the app from Google Play or App Store.
Tap the video on your screen, and a sign-up form will appear.
Select your sign-up option: Facebook, Instagram, Twitter, or Google account, or you can sign up with your phone or email –  If you are registering with an existing social media account TikTok will use your name and profile photo (you can change that photo later)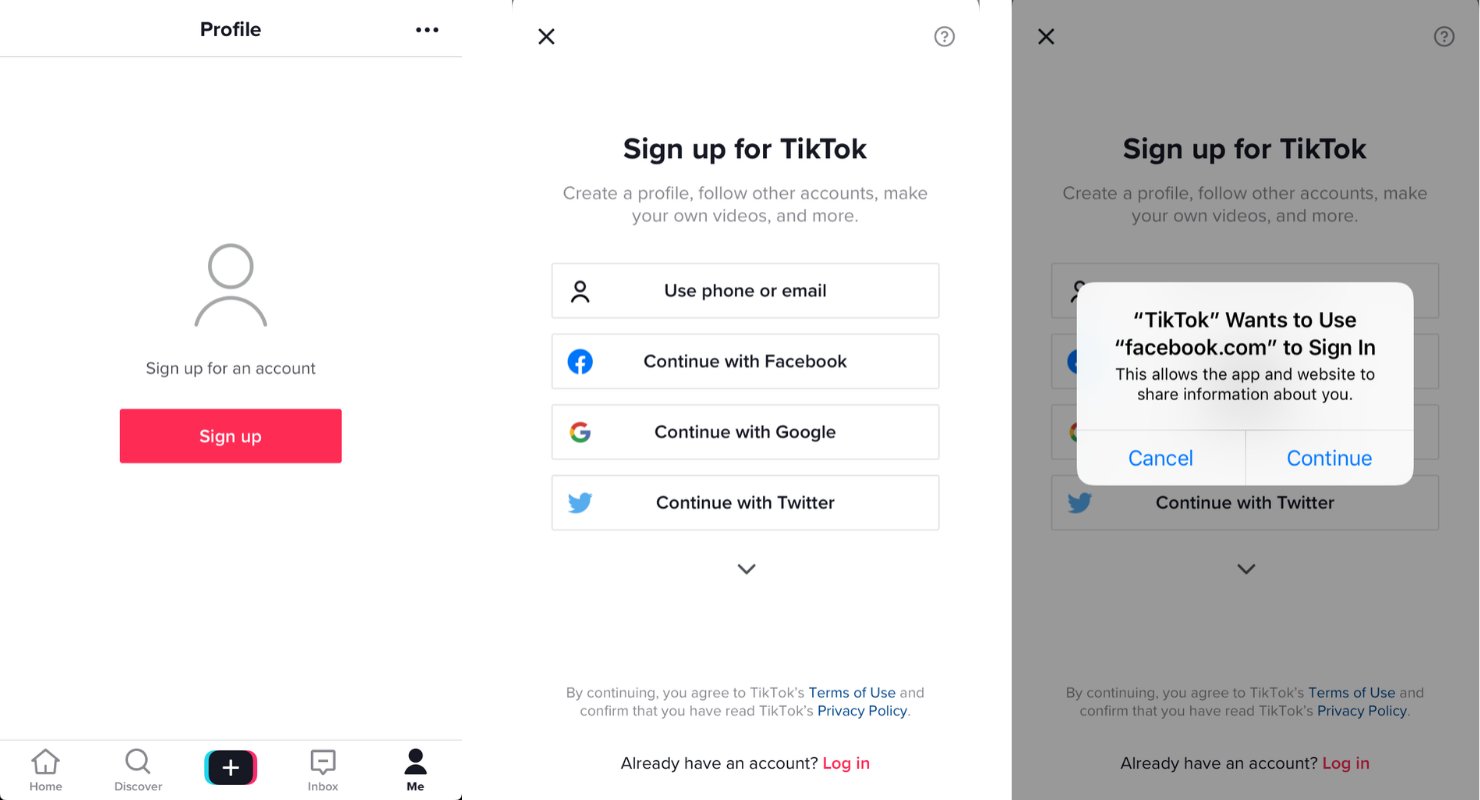 Enter your birthday. This is an important step because TikTok requires users to be at least 13 years old. If you're below 18, you must ask for help from an adult.
TikTok will automatically give you a user name; you can change that username once every 30 days.
Create your first video.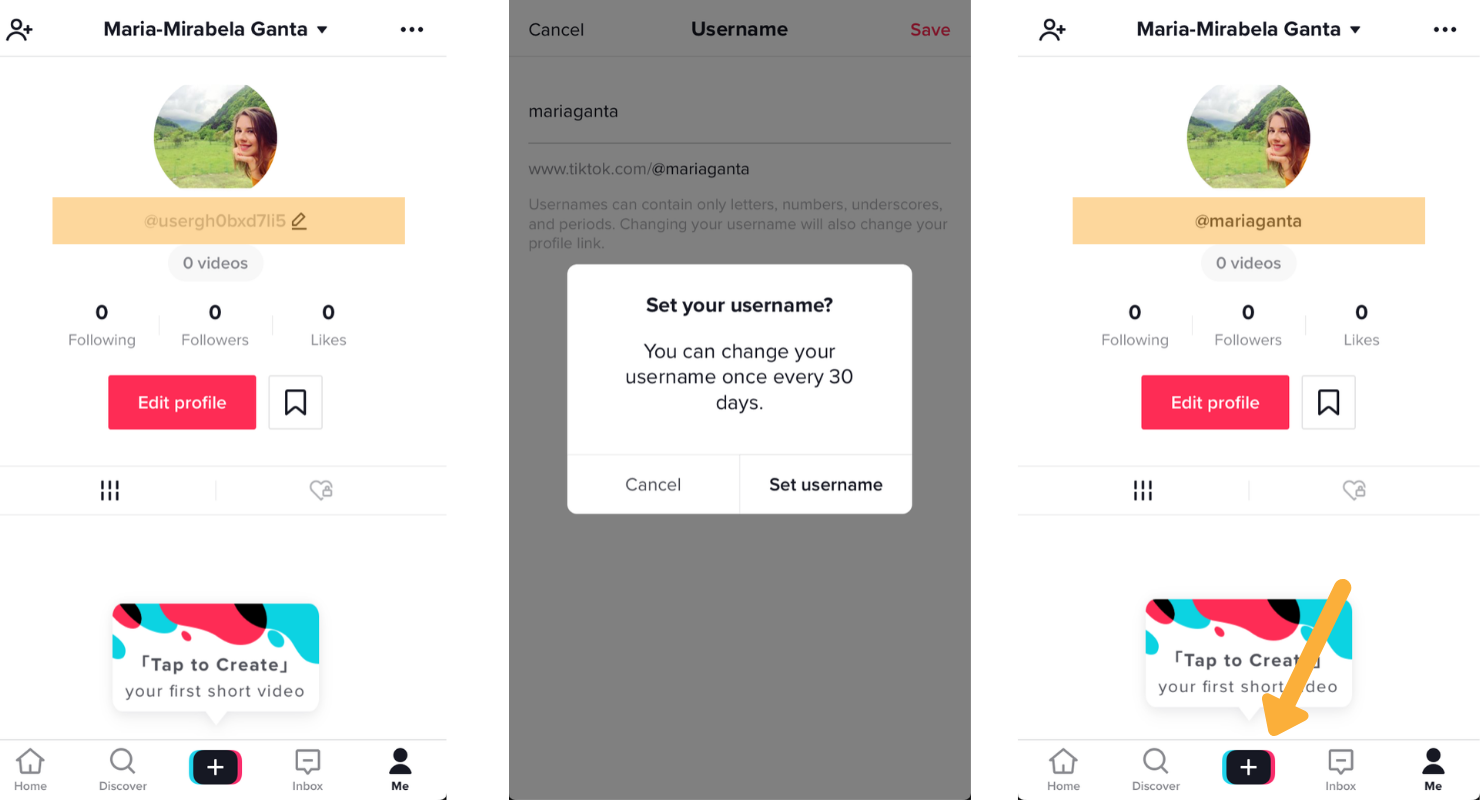 Note! You can add your Instagram profile and YouTube account.
Here's how you can add your Instagram profile to your TikTok account:
Click "Edit Profile"
Click "Add Instagram to your profile"
TikTok will ask if you want to save your Login info
Done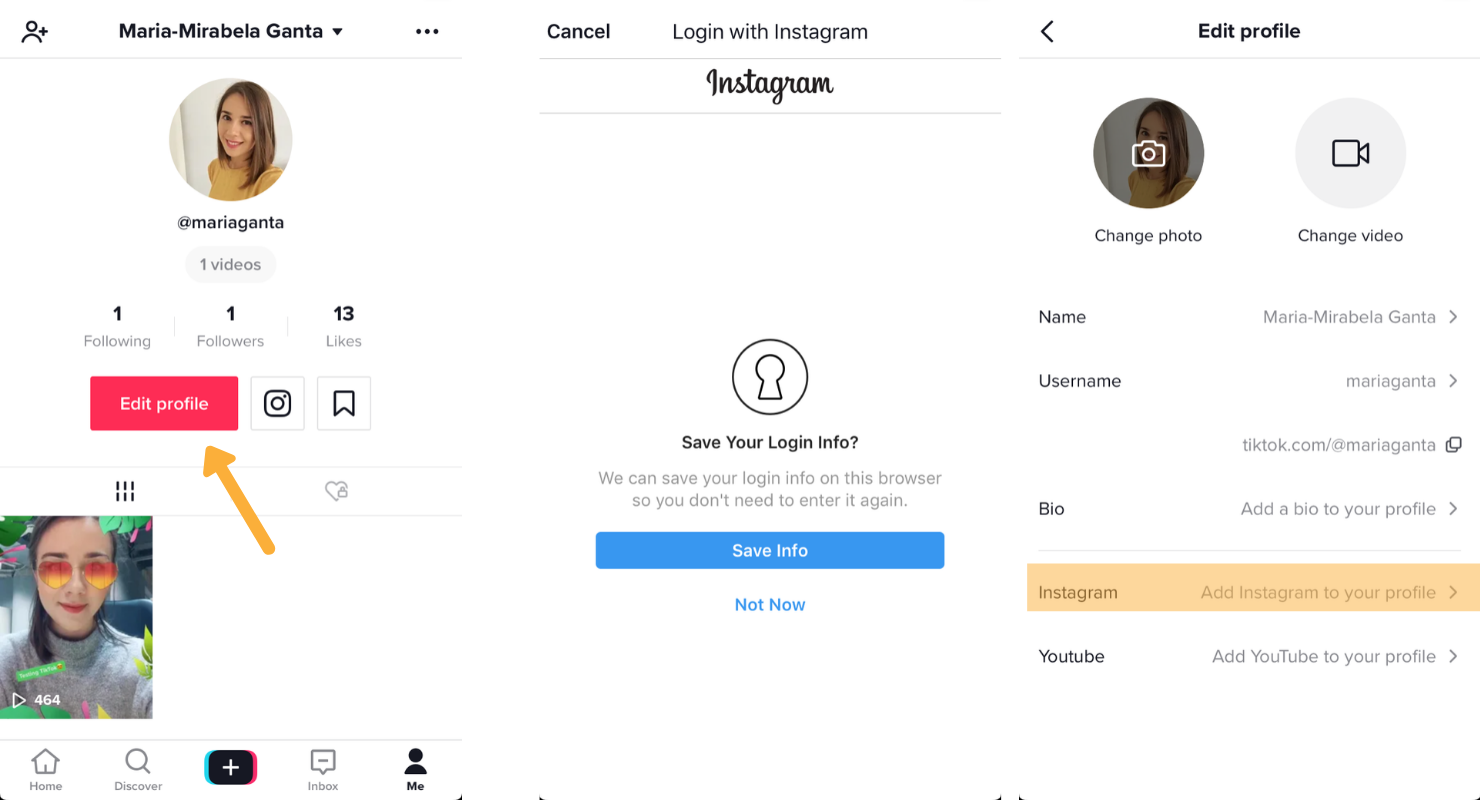 You can do the same for YouTube.
Now it's time to find content made by people you're following or based on your interest. By tapping the magnifying glass in the menu, you'll find out what are the trending topics grouped by hashtags. You can type keywords, and you'll be given a lot of options to choose from.
How to make your TikTok account private
If you decide you want to narrow down your audience for a while, you can make your account private quickly.
Go to your profile page
Select the three-dot icon located in the top-right corner
Select "Privacy and safety" and switch for the Private account.
You can also set who can post a comment, who can create a duet with you, who can react to your videos and many other settings.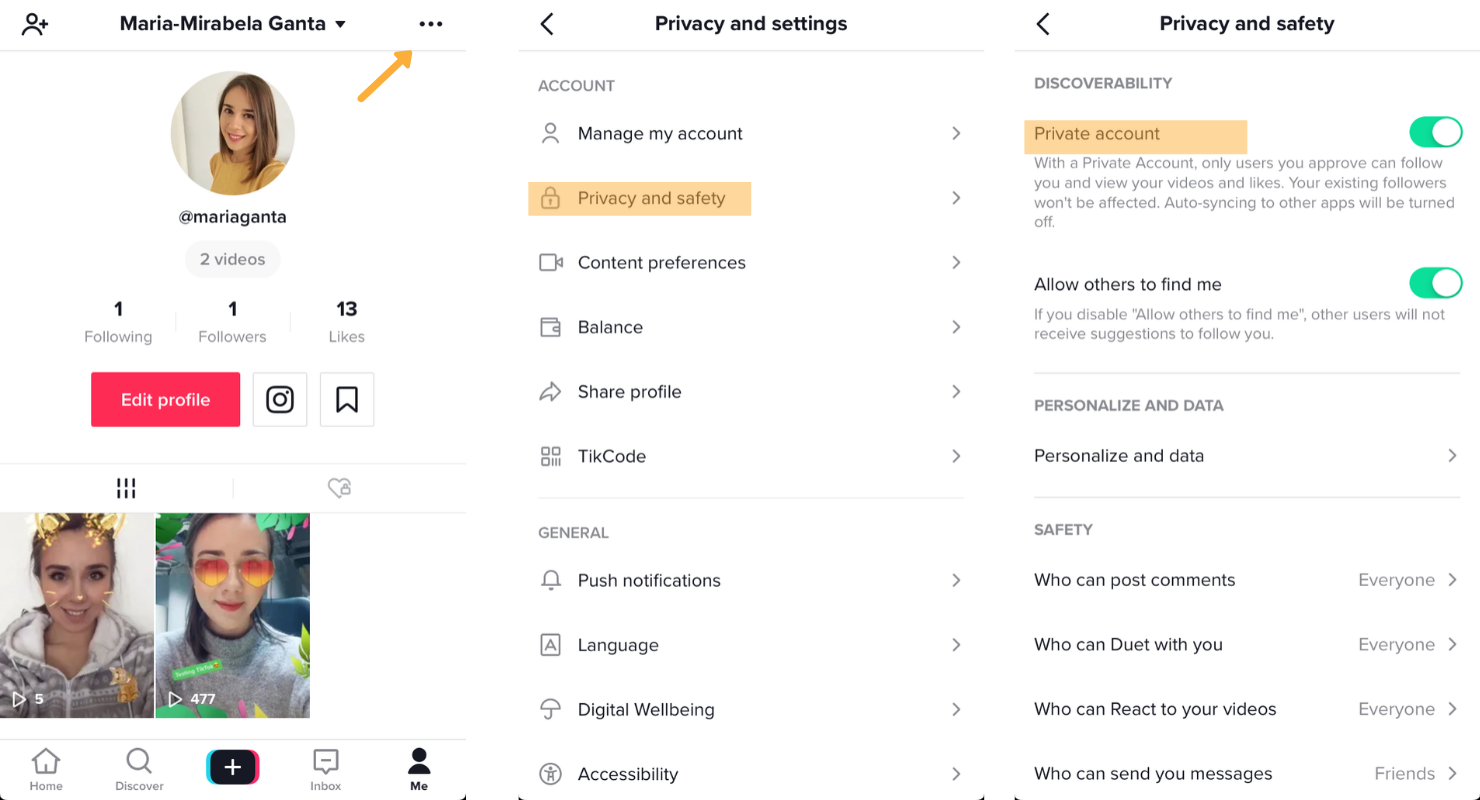 How to create a TikTok video
To create a video, just tap on the central button with the "Plus" sign. You'll be able to record 15 or 60 seconds video, with a lot of features.
Firstly, you can add sounds, filtered by categories. You have the browsing bar and you can also save the favorite ones. Another useful detail is the customizable speed of the video-from 0,3x to 3x.
TikTok provides many special effects with the help of AI. Because there are so many options and you can easily lose the preferred one, TikTok lets you bookmark the ones you like the most.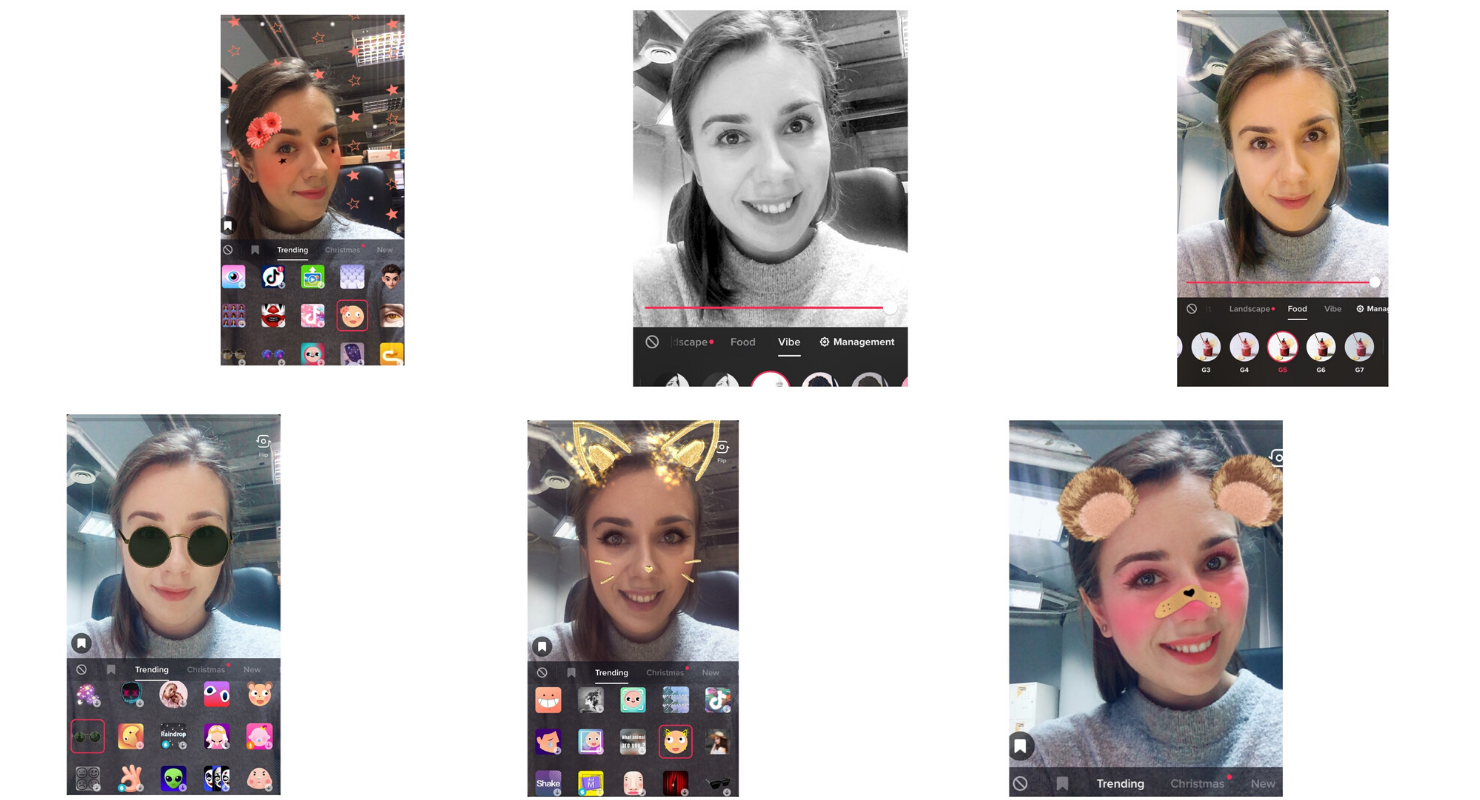 There are also the beauty mode, the filters, and the timer.
Don't worry if you already have a video, but you haven't recorded it directly in TikTok. The app lets you upload the wanted one and customize and apply all kinds of filters and effects.
Play with the app and see what it takes to make significant and maybe viral videos.
@mariaganta

TikTok has a new fan – ME #tiktok #tiktokstrategy #newarticle #socialmediamarketing

Dance Monkey – Tones and I
What are the age recommendations for TikTok?
As we've said before, TikTok doesn't allow children under 13 to use the app. In the Community guidelines section, the app counts many types of content that are not promoted and are strictly prohibited:
️ harmful or dangerous videos
️graphic or shocking content
️discrimination or hate speech
️ nudity or sexual activity, etc.
TikTok even mentions that it takes children's safety very seriously.
The app makes constant efforts to keep the platform clean from videos with content above mentioned, and for those videos who still got to the feeds of other users, the app appeals to users to report them.
How to delete a TikTok video
If you decided to post a video but afterwards you aren't so happy about it, or it's not in line with your brand identity, you can delete it in just a few simple steps.
Go to your account
Select the video you want to delete
Tap the three-dot icon and select "Delete"
Just for a double check, TikTok will ask if you're sure you want to delete the video. After this, it will be gone entirely – unless you've downloaded it.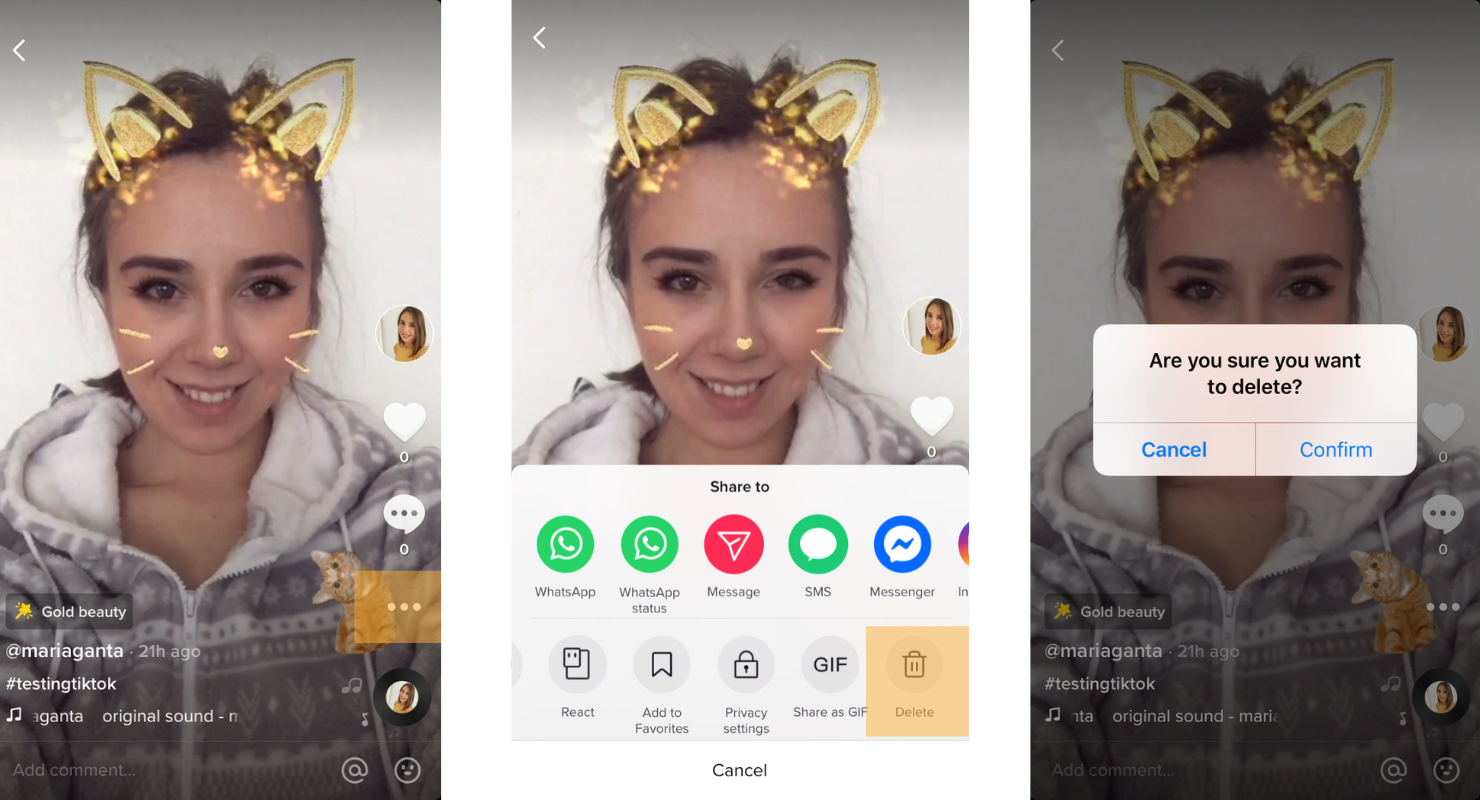 How to download a TikTok video
If you want to download a video you've posted or any other you like, tap for a few seconds on it and then select "Save video."
If you don't want people to download any of your videos, go to your profile, tap the three-dot icon, access Privacy and safety, and tap on the Allow download option. You can disable this option.
How to delete a TikTok account
Maybe TikTok is not for your company, and you just tested it. Or perhaps you want to create another account – nobody can blame you if you don't want two accounts for the same company.
Go to your profile
Select the three-dot icon
Click "Manage my account"
Make sure you have a valid phone number because, without it, you won't be able to see the Thinking about removing your account option.
Once it appears, tap on it and follow the instructions: add the verification code sent on the phone, select Continue, read and accept the information regarding deleting your TikTok account
Click Continue and then complete the process by tapping on "Delete account"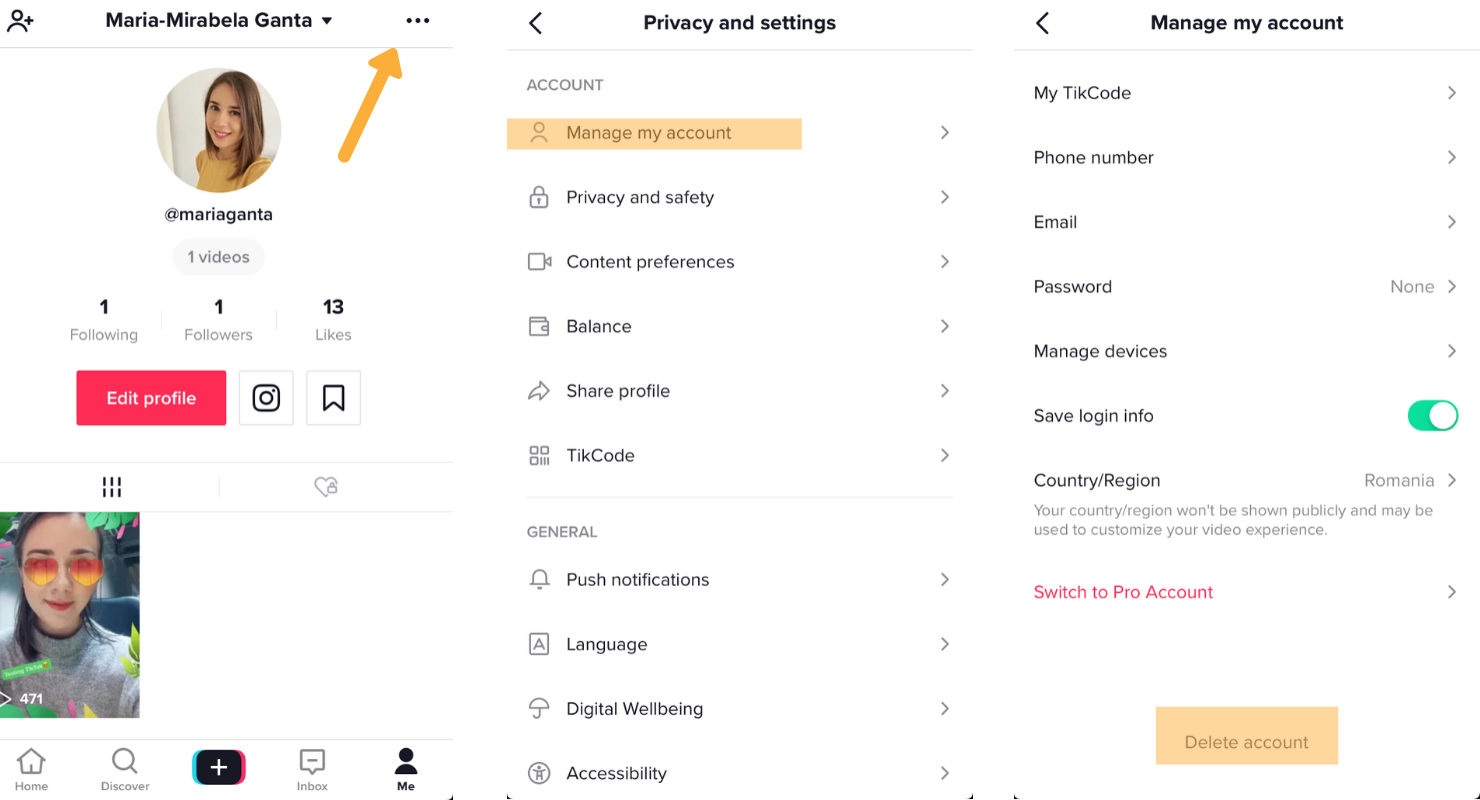 Note! If you created your account with your Twitter or Facebook account, you'll have to tap "Verify and Continue" before your TikTok account is deleted.
How to do a duet on TikTok
One of the most compelling features is to do a Duet. This means two users who follow each other can make a common video.
To do this, the first user creates and posts a video, and then the second one selects the three-dot icon from the bottom right of the video and presses "Start the duet now."
@andragogan

#duet with sundyjules

Bochka Bass Kolbaser – ambax
5. How to create a TikTok Strategy in 2021
Creat a plan – what are your objectives?
Like on any other social media platform, if you want to start marketing your brand on TikTok, you have to start with a plan and find out your objectives.
Maybe you want to:
increase engagement on social media
reach a younger audience
increase your followers
brand awareness
After you figure this out, it is time to create a strategy.
Use only relevant hashtags
Like other social media platforms, TikTok users can catalog their videos and search for other videos by subject. If you click on the "Discover" magnifying glass at the bottom of your screen, you will see a list of videos sorted by trending hashtags.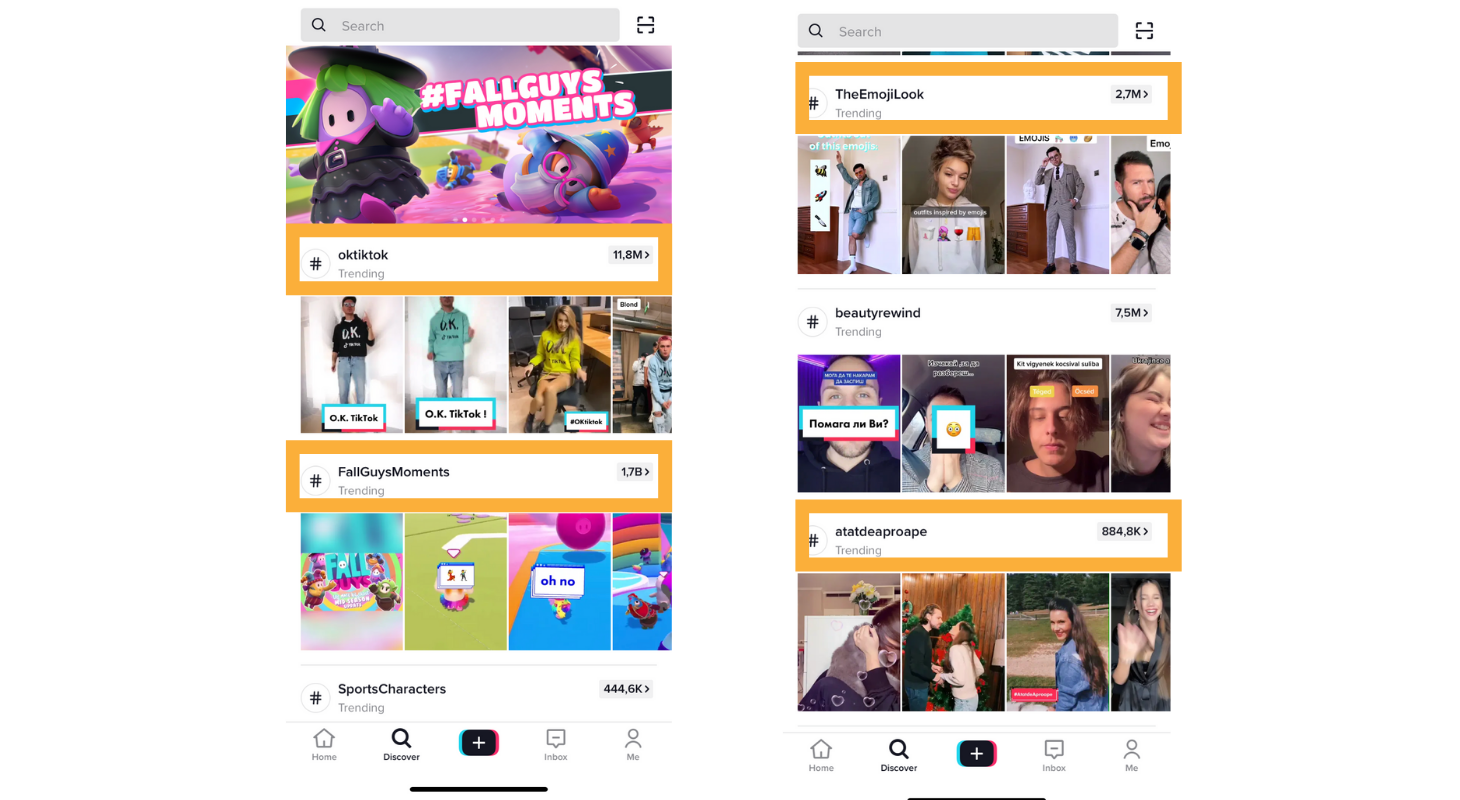 Make sure you include relevant hashtags on your videos, and because TikTok is not Instagram or Facebook, I suggest you don't add ten hashtags.
Why?
Because on TikTok, after you click publish, the hashtags will appear on your video, and if you add ten or more, your video won't look right.
Add only the relevant ones.
Create a hashtag challenge
Hashtag challenges are one of the most popular things you can do on TikTok. They are an excellent way for businesses to increase engagement and brand awareness with less effort.
A good hashtag challenge results in inspiring others to talk about your product offline and other social sites.
Before starting your own challenge, take a look at your competitors.
Use TikTok effects in your videos
As I said earlier, TikTok provides many special effects with the help of AI, so make sure you use them in your videos.
The effects are split into six categories: Trending, New, Selfies, World, Accessories, and Animal types.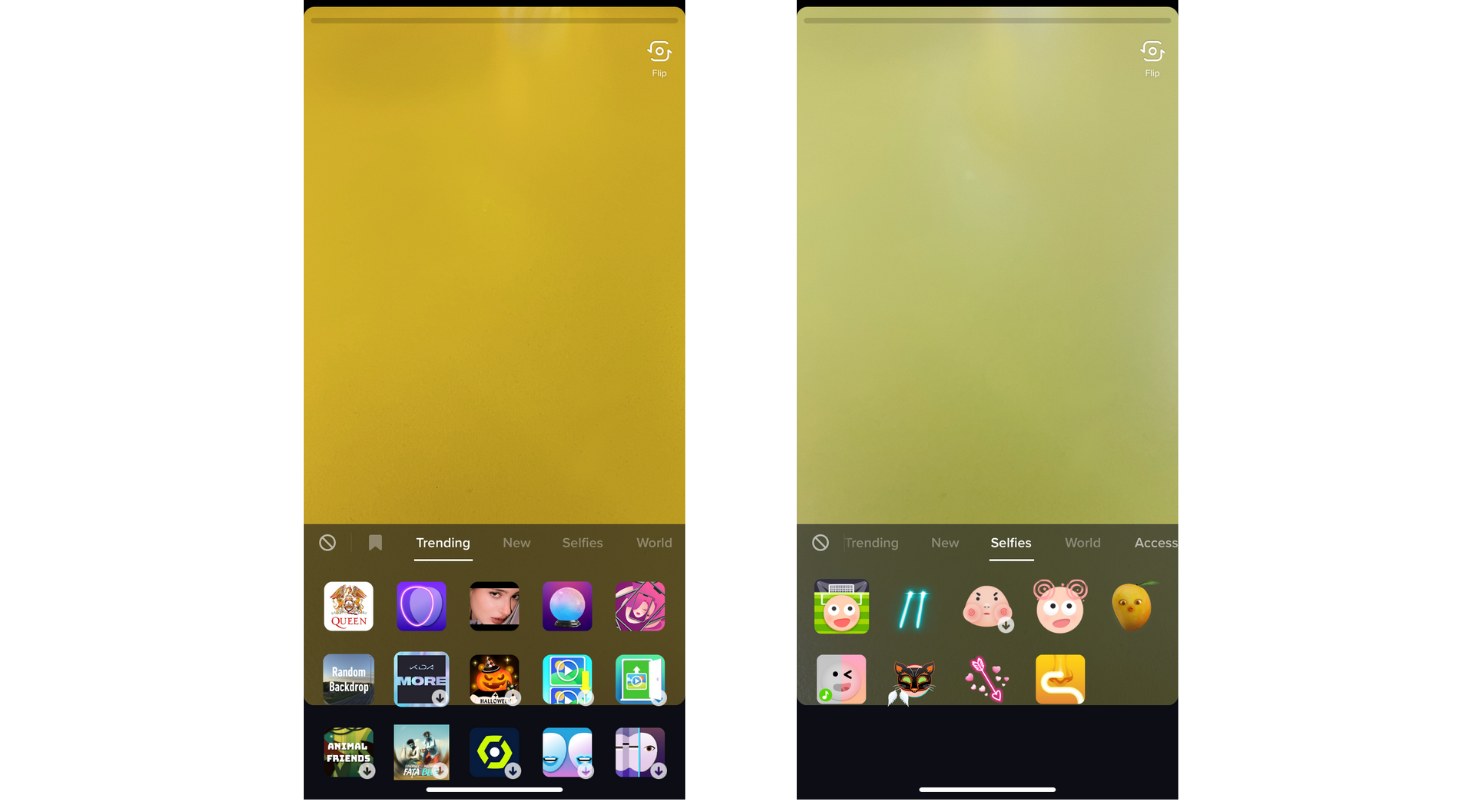 To sum up, if you want to create a TikTok strategy in 2021, make sure you follow these steps:
Create a plan and find out what are your objectives
Use relevant hashtags
Create a TikTok hashtag challenge
Use TikTok effects in your videosPost every day
6. TikTok analytics
No matter when you've joined TikTok, make sure you have a good overview of what's happening on your profile. Knowing your data means you're in control of your TikTok marketing strategy.
To do this, you have to access your analytics, and you need a pro account.
Go to your account
Click "Manage my account"
Click "Switch to Pro account"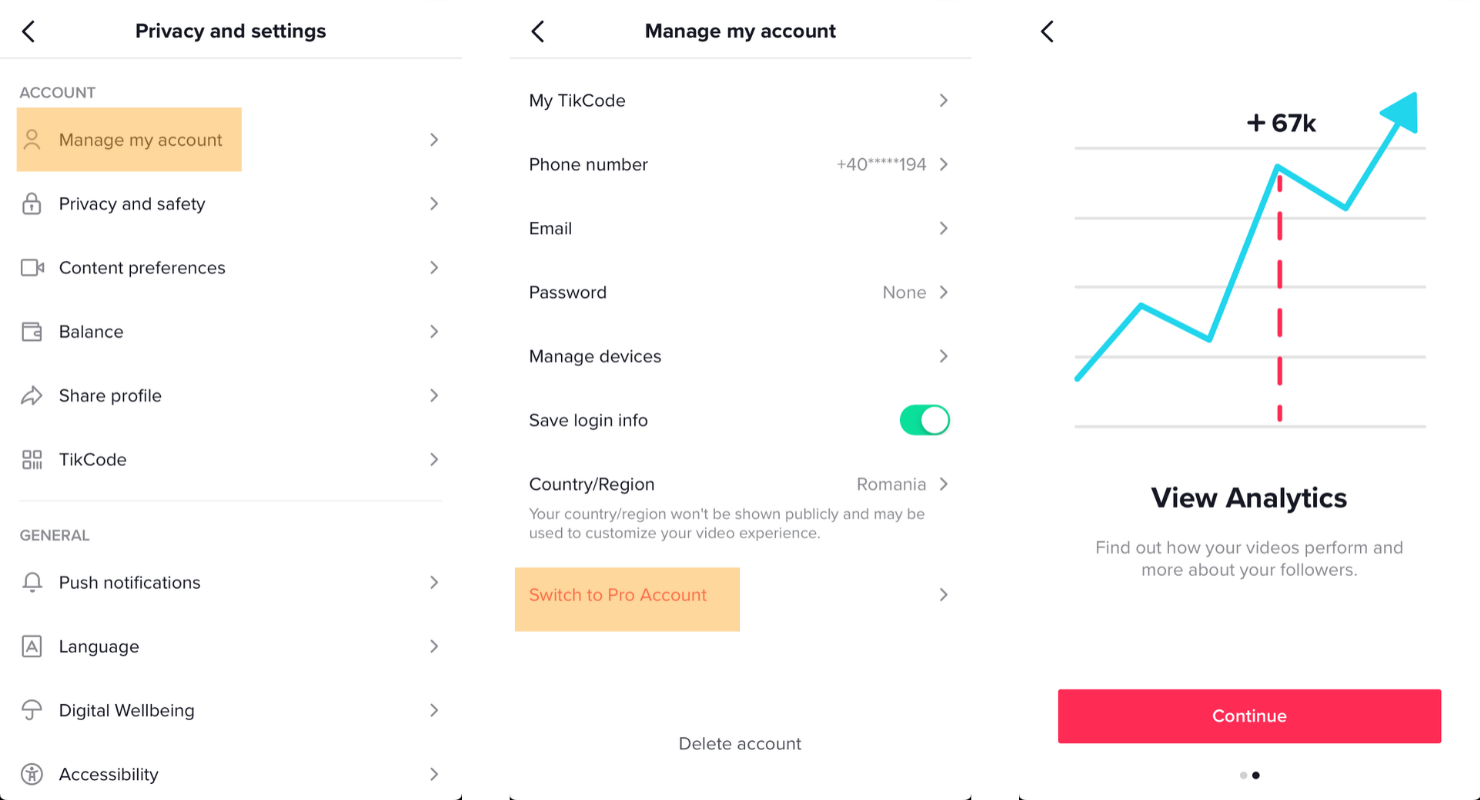 You'll be asked to choose a category to get customized analytics. After typing your phone number, you'll be asked to add a verification code. The message comes instantly. You have a pro account, and you can find Analytics in the settings.
TikTok now keeps tabs of your data on two-time frames: 7 or 28 days. You'll be able to see the progress and to monitor your weekly and monthly changes.
In the Overview dashboard, you can track the number of video views, followers, and profile views.
The Content dashboard provides you a picture of the number of posts you have and which are your trending videos.
For each video, TikTok shows:
️the number of likes
️comments
️shares
️total playtime
️total views
️average watch time traffic source types
️audience territories
In the Followers tab, you'll be shown the distribution of your followers by territory, the followers' activity, video your followers watched, and the sounds the followers listened to.
Final thoughts
Every social media app has its specificities. TikTok has taken the internet by surprise, and for sure, it is going to stay for as long as people will want to enjoy straight on point and quality entertainment.
Give your brand a boost and make it more appealing to young people. Try to be as creative and original as possible and integrate the brand within the videos, but don't create all the content around the brand.
Related articles:
Most Asked Instagram Questions
9 Great Ways to Tell Your Brand's Story on Social Media
[New Year Resolutions] Start A Successful Social Media Strategy