Every couple of years, something happens that reminds us just how vulnerable our data privacy is.
On March 17, 2018, The Guardian published a whistleblower story about Cambridge Analytica on how they gathered data from 87 million unsuspecting Facebook users through a Facebook quiz application, which reportedly was used to impact the 2012 US elections.
Unfortunately, technology has made it easier and easier for your private data to be accessed by unauthorized parties.
So the question this article sets out to answer is; "Is your data safe from Facebook quizzes? And if you're a business owner, how can you ethically leverage quizzes to grow your business?"
Our quiz maker, LeadQuizzes has helped marketers capture 4.7 million leads and collect 73.9 million data points to learn about their audience through quizzes.
We think that provides us a uniquely qualified lens to educate you on Facebook quizzes, how to protect yourself and learn how marketers are capturing your data and leveraging that information to grow their businesses.
Facebook Quizzes and the Cambridge Analytica Scandal
Before jumping into the 5 Facebook quiz marketing secrets used to capture your data, let's briefly discuss the way in which Cambridge Analytica used a Facebook quiz to gain access to data on 87 million users and how what they did is vastly different than what businesses normally use quizzes for today.
In 2010, Facebook launched an API called Open Graph, which allowed developers to request permission from you to access a large amount of your data and unknowingly from your friends.
If you haven't heard of Open Graph, then you're probably familiar with it by interacting with permission screens like this:
In 2013, Cambridge Analytica created a Facebook personality quiz application called 'This is your digital life'. The app required you to give permission to data Facebook had collected about you, which also gave Cambridge Analytica access to your friend's Facebook data.
In 2014, Facebook changed their Open Graph API so that developers could no longer access your friends data without receiving permission first. This closed this privacy loophole but not before Cambridge Analytica had already gained access to over 87 million users Facebook data.
In 2018, The Guardian published an article about how Cambridge Analytica accessed this data and used it to influence the American elections in 2016. This report set off privacy concerns around the world and ethical questions about how your data could be accessed without your permission because your friend took a Facebook quiz.
Facebook has since banned Cambridge Anlaytica's quiz application and blocked third party developer applications from accessing your friends data through the Open Graph API.
Now that developers can't access your friends data through a personality quiz anymore, let's explore the 5 ways marketers are currently using quizzes on Facebook and websites to collect and use your data.
5 Facebook Quiz Marketing Secrets
Quizzes can be used very creatively to learn about you and monetize your data. Let's dive into the 5 ways marketers are using Facebook quizzes today so you can keep yourself safe and use them ethically if you have a business.
1. Generate Advertising Impressions
The first and probably the most common use of quizzes is to generate impressions and visitors to earn advertising revenue. Let's take a look at Buzzfeed, as they're a great example of a company using quizzes effectively for this purpose.
In 2018, they generated over $300 million in revenue from 200 million monthly unique visitors. Largely, their revenue comes from selling advertising to businesses that want to get in front of Buzzfeed's audience.
So with that model, it is Buzzfeed's goal to get as many visitors as possible to their site and to get those visitors engaged and visiting as many different pages as possible. To do that, they need to create highly engaging and interesting content.
As I'm sitting in Mexico writing this article, all ten of the top trending pieces of content on Buzzfeed are quizzes.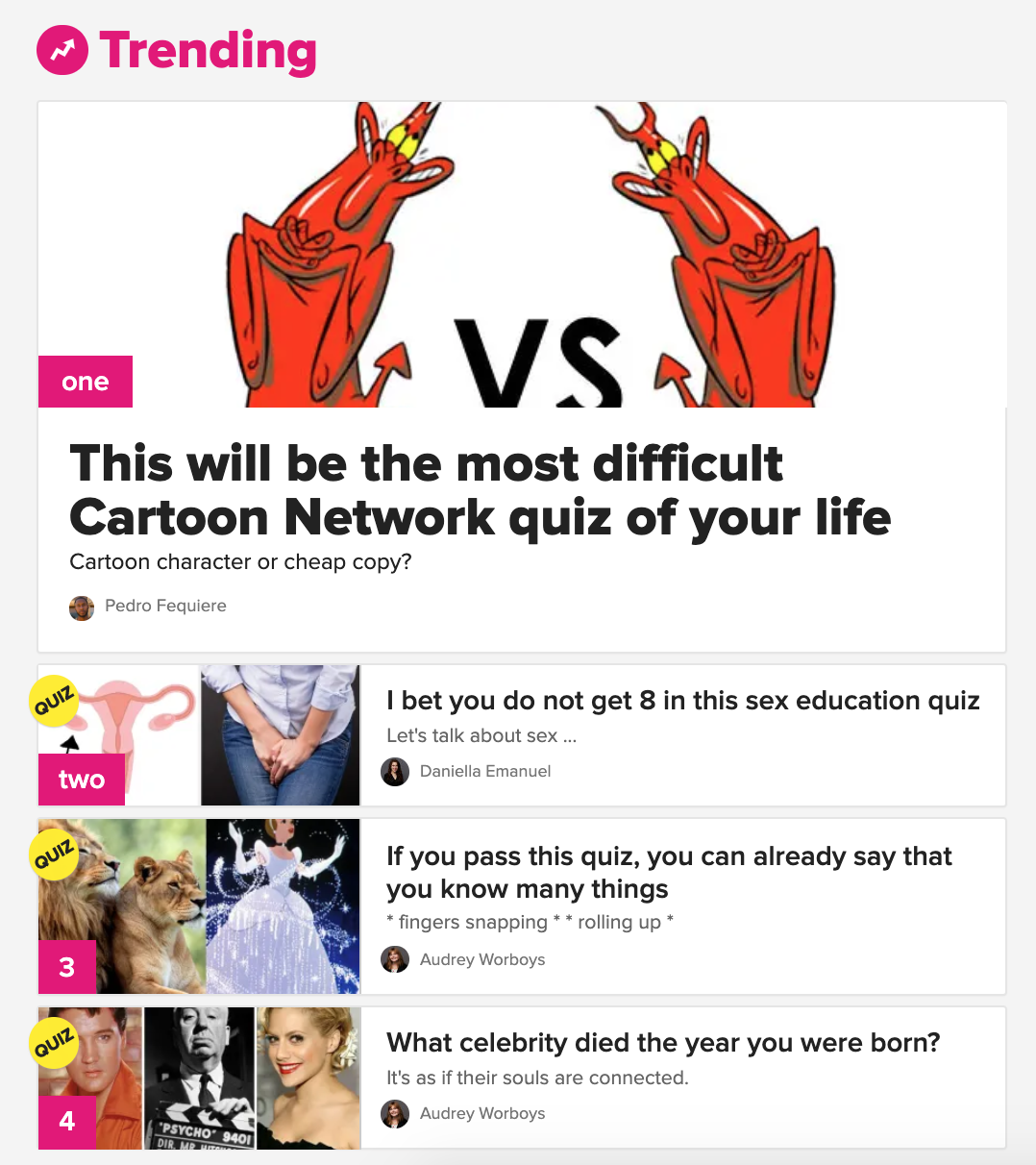 Obviously quizzes are extremely effective for Buzzfeed in terms of generating engagement and visitors.
Now as we open up a quiz on Buzzfeed, this is what we see:
Before we even start, we're served two advertisements. As we start to scroll, a new ad is shown every two questions.
By the end of the quiz, we've been served thirteen total ads in a single quiz.
It doesn't seem like the advertisements Buzzfeed served me on this quiz are relevant to the quiz but rather related to other browsing data Google has already collected on me.
This would mean that most likely, Buzzfeed's primary goal with their quizzes is just to increase viewership for their ads.
2. Lead Generation
The second most common reason marketers use quizzes is to generate leads.
Now if you've been involved in digital marketing or have an email you may know that businesses trying to capture your email is nothing new.
For example, as I scrolled the homepage of Lululemon, this newsletter optin popped up at the bottom of their page: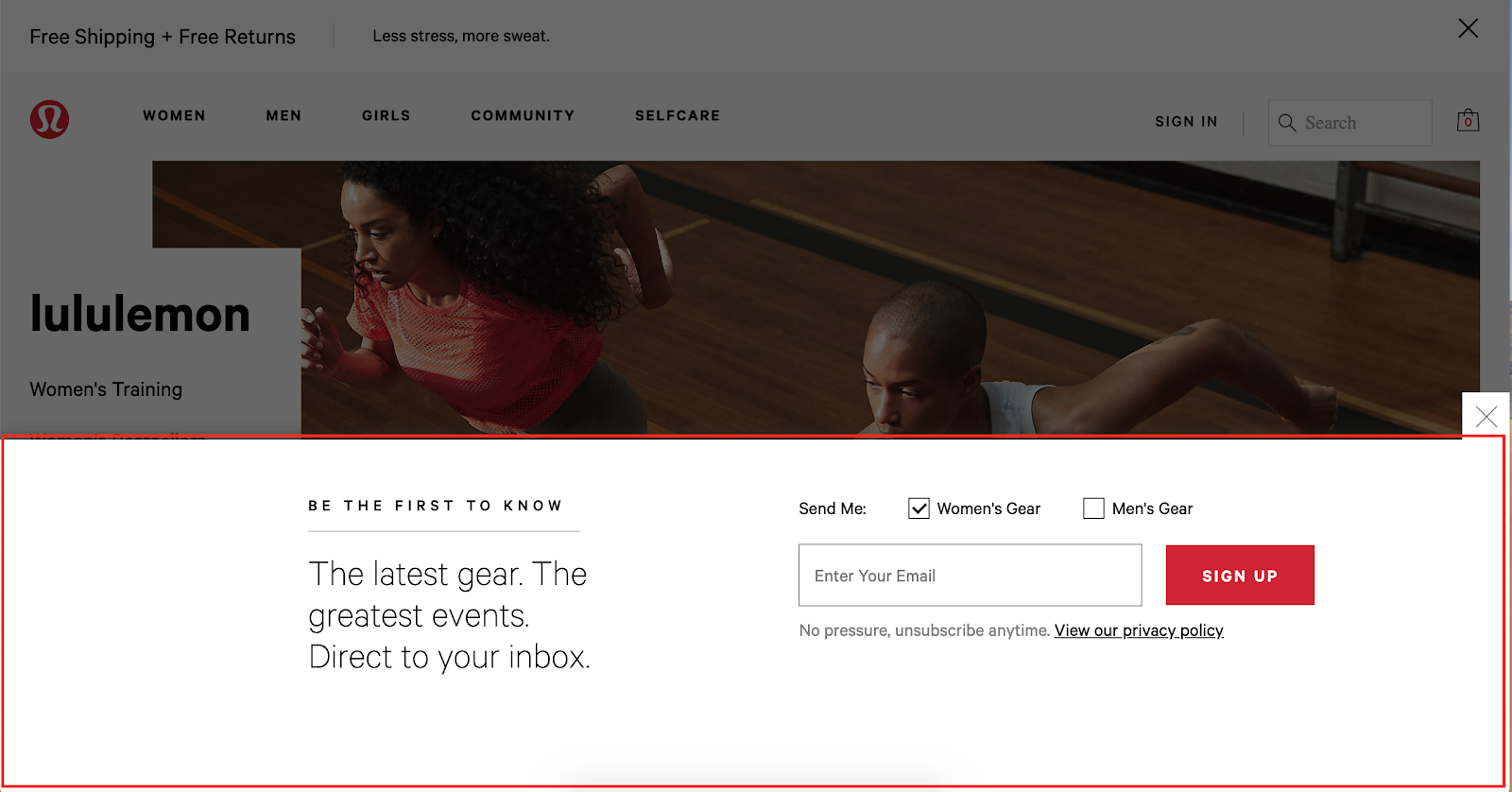 After you opt in to an email newsletter like this, companies send you product promotions and offers to encourage you to buy from them like the one below:
But what makes quizzes different is that quizzes can increase lead capture by as much as 500% compared to traditional newsletter or product discount opt ins.
The reason quizzes are so effective at generating leads is because they are extremely engaging and they get visitors committed to seeing their personalized result in exchange for their contact information.
Let me prove it to you!
Website Traffic
The first example I'll share with you is how quizzes can increase lead capture on a website.
Let's start by looking at the website NutritionSecrets.com (website acquired and redirected to Legion Athletics).
Neil Patel, the previous owner of Nutrition Secrets, advertised his quiz on this website here in the navigation:
When a visitor clicks on the Diet Quiz button, it takes them to the quiz shown below:


The visitor answers questions one at a time:
Until they get to the lead capture page where they have to submit their contact information to get their results.
Finally on the next page they see their personalized result and possibly an offer to buy a product.
As you can see, this personalized process is much more engaging than just the newsletter opt in you saw on the Lululemon website to capture someone's contact information. As a result, it increased the lead capture on NutritionSecrets.com by 500%.
To see the full case study of this example, just click the image below:
Neil Patel and Nutrition Secrets
Additionally, here are some examples of other businesses using a quiz on their website to capture leads and increase sales. Click on the images for the full case study:
Annmarie Gianni Skincare
Snow Teeth Whitening
Facebook Quizzes Advertising
The next major way businesses increase their leads with quizzes is by advertising it on platforms like Facebook or Google.
For example, Integrative Healthcare advertised a thyroid quiz that would help visitors determine if they had a thyroid problem.
They would click the ad and land on the quiz.
They would answer questions about themselves.
Then they would be asked to opt in in exchange for their personalized results
Finally they would receive their results and an offer to sign up for an in-person consultation.
This marketing strategy led to Integrative Health capturing 1,600 leads a month for their local practice, which resulted in 40-60 in-person consultations and on the low end, $24,000 in new patient revenue from just $1,000 a month in Facebook advertising spend.
To view the full case study, click the image below:
Integrative Healthcare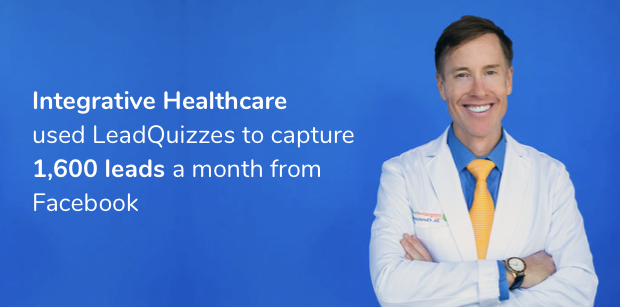 Here are some additional examples of other businesses using a quiz with Facebook ads to capture leads:
Goth Rider
Hail Financial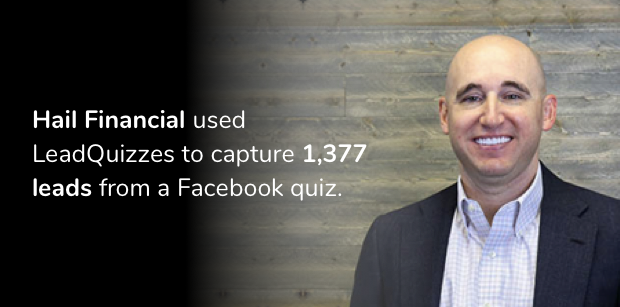 Now that we've covered some of the more straightforward reasons marketers use quizzes, let's explore some of other ways in which businesses are using quizzes on Facebook.
3. Market Research
Another great reason businesses use Facebook quizzes is to do market research and learn about their audience. Quizzes are a great way to collect this data in an unobtrusive way and without feeling like you're taking a survey.
Market research is important for some of the following reasons:
Learn about the demographics of your customer to improve targeting for things like Facebook advertisement.
Learn about your existing customers so you can improve your product.
Adjust strategy regarding pricing, distribution channels, etc.
Identify new business opportunities
Let me share a real life example.
Kathy Smith has stood at the forefront of the fitness and health industries for more than 30 years. With a collection of best-selling books, videos, audios and DVDs on walking, strength training, yoga, Pilates, dance, aerobics and nutrition, Smith has sold over $500 million in lifestyle products and fitness equipment.
When she got started out, one of the best ways for her to collect feedback on whether people liked her products was to receive letters in the mail from her customers. It was a really slow process.
Well, Kathy decided to advertise a quiz on Facebook called "What Could Be Stealing Your Energy".
She got immediate feedback and found out if people were more interested in help with their sleep, stress reduction, nutrition, etc. which helped her fine tune not just her marketing but also her product development.
To view the whole Kathy Smith case study, click the image below:
Kathy Smith
4. Qualify Visitors and Leads
The next area businesses use quizzes is to qualify visitors and leads.
While some businesses capture leads with their quizzes, not every lead should be sold to. When that's the case, businesses need to qualify their visitors and leads so they don't waste expensive resources doing that manually.
Website Traffic
A great example of a major company doing this is LendingTree. In 2018 LendingTree generated $765M in revenue.
If you look at their homepage below, their whole strategy to capture leads and qualify their visitors is built around a series of quizzes.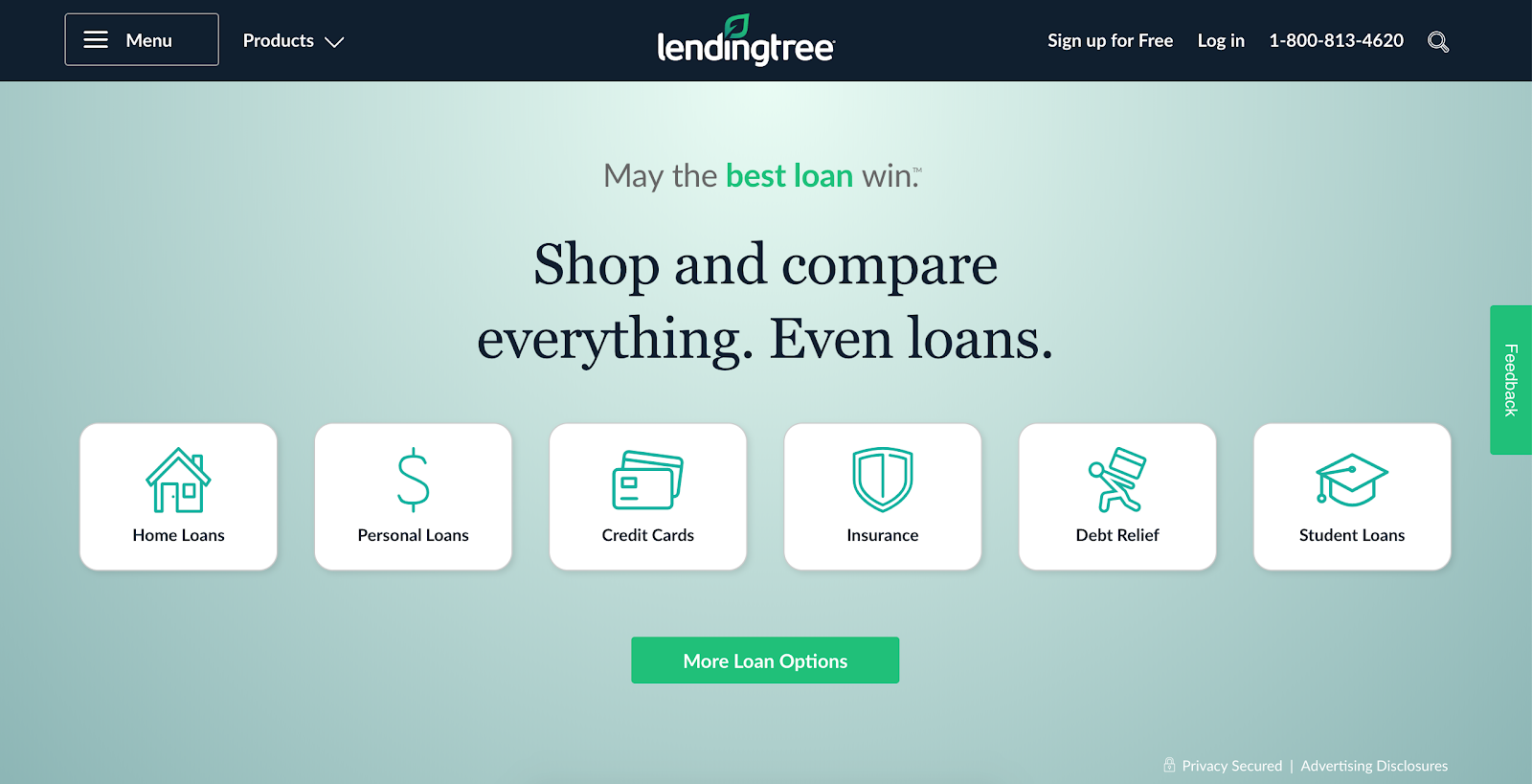 Let's take a look at their Debt Relief quiz. On the first question, they start segmenting their visitors by figuring out if you want to reduce your debt or if you need cash:
Next they determine your employment status:
Your pre-tax income:
And so on until they've built up a complete profile of who you are and what your needs are so they can determine if they can help you.
Once they capture information to follow up with you like your name, email, phone number, and address, they let you know what they think the best solution is and behind the scenes, determine the method they will use to follow up with you if you are a qualified lead.
Facebook Quizzes Advertising
Next, let's go through an example of lead qualification using quizzes on Facebook.
In California, Imperial Valley Home Finder set up a real estate quiz to try and find qualified new home buyers. They advertised it on Facebook using this carousel ad below: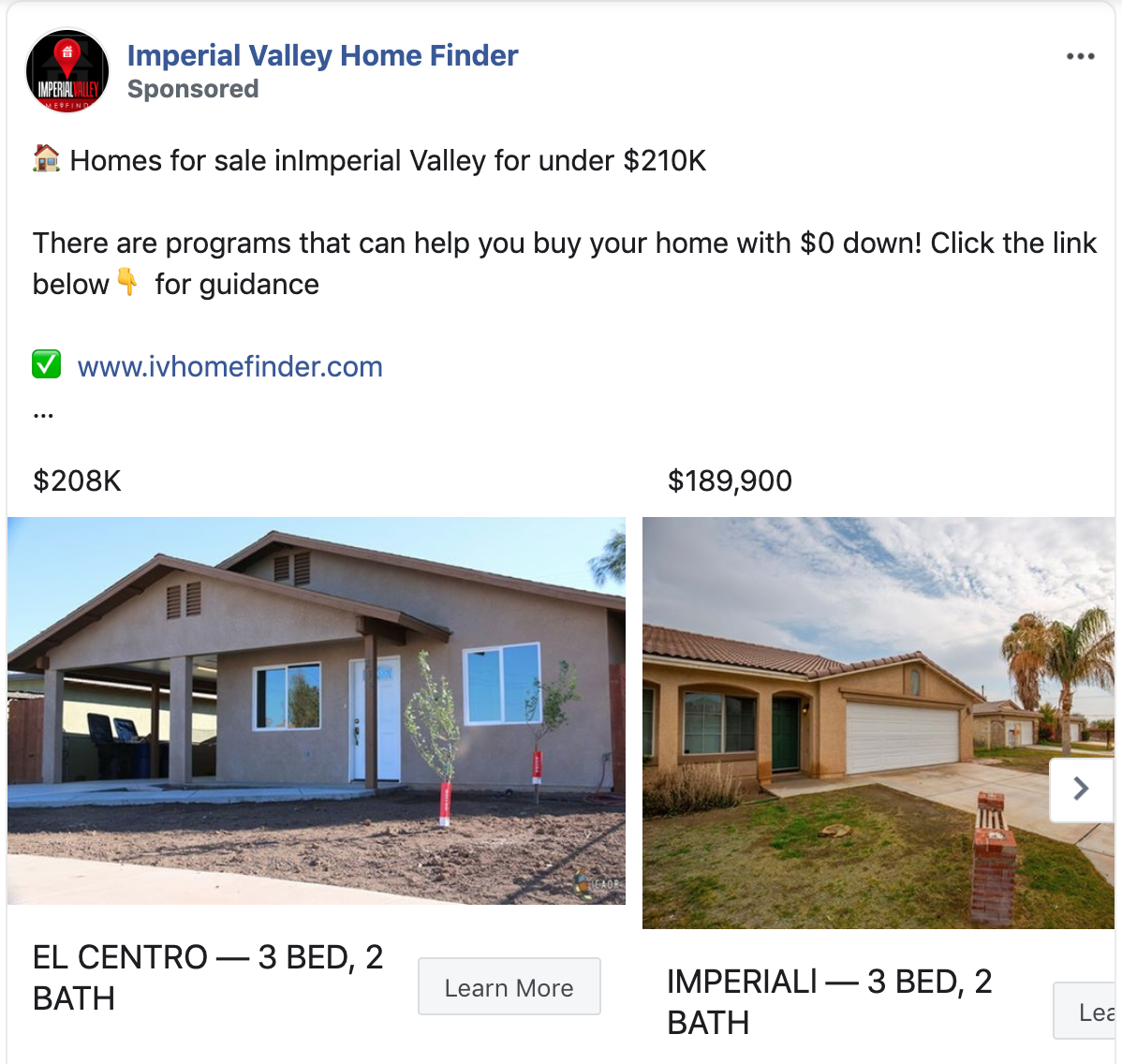 That ad led to this quiz:
Which led to a series of qualifying questions like annual income, savings, debt, credit score, etc. which would be used to qualify the leads:
Finally before getting their results about qualification for the $0 down home loan, they were asked for their contact information:
In this example, Imperial Valley Home Finder took that lead information and sent it to Google Sheets, where they were able to sort and follow up with the most qualified potential buyers.
As you can see here, they have a list of all the answers tied to the lead's personal contact information (blurred for privacy):
To watch the complete Imperial Valley Home Finder case study, click the image below:
Imperial Valley Home Finder
If you're taking a quiz on Facebook or somewhere else, make sure you understand that all the information you are providing can be tied to your contact information and used to market or sell to you.
5. Personalized Marketing
The final major way businesses use quizzes is to personalize their marketing. I'm going to break personalization down into three sections.
Personalized Recommendations
Based on the answers you provide in a quiz, you may get personalized recommendations.
For example, Dr Tami is a hormone doctor who advertised this hormone quiz on Facebook:
At the end of the quiz after visitors gave their contact information, they were provided personalized recommendations on how to improve their hormones. Being their quiz said they had some hormone deficiencies, Dr Tami was able to make a personalized sales offer to get their blood work done and a free consultation that would lead to them becoming a patient:
In this example, personalization happened during the quiz process with an immediate recommendation and sales offer. In our next example, we'll talk about how your quiz answers can lead to personalized follow up.
To view the complete Dr Tami case study, click the image below:
Dr Tami
Personalized Email Marketing
In sales, there's a saying that the money is in the follow up. The far majority of sales don't happen right away so many businesses turn to email marketing to create relationships with their leads and ultimately turn them into customers.
For example, let's look at a business called Fit Father Project that did this with their Facebook quiz.
They advertised a Facebook quiz to help fathers pinpoint the #1 health challenge holding them back from their fitness goals.
At the end of the quiz, Fit Father Project told the quiz takers that their #1 health challenge was time, nutrition, improper exercise, etc. based on their answers.
Now after the quiz, Fit Father Project sent email follow up specifically based on the result the quiz taker got.
For instance, the problem I got was lack of time so Fit Father Project sent me emails specifically about how to make a fitness routine work around my concern of not having enough time:
To view the complete Fit Father Project case study, click the image below:
Fit Father Project
Personalized Advertisement
The last way in which businesses can take the data they get from you in their quiz and personalize their marketing is through their advertisement.
So for example if you took a real estate quiz and answered a question saying that you were looking for a home worth between $200,000 – $250,000, even without providing your contact information, marketers can create a custom audience targeting you based on that specific answer or combination of additional answers.
This is valuable because now they are narrowing their advertisement down to the most qualified leads and not wasting money elsewhere.
While Facebook will now allow the marketer to target their ads towards you, from a privacy perspective, if you didn't provide your contact information you will remain anonymous and the marketer will not receive any personally identifiable information about you.
This is not much different than if you search Google for shoes and then start seeing shoe ads everywhere, but it is something you should be aware of when taking Facebook quizzes.
Click here if you would like to learn more about how marketers can advertise to you based on the questions you answer in a quiz.
Create Your Own Facebook Quiz
At this point, you've learned all about how businesses are using Facebook quizzes to capture your data and sell to you. But if you're a business looking to grow and want to use quizzes as part of your strategy, where do you start?
LeadQuizzes is a Facebook quiz application that allows you to create a quiz by starting with a template or from scratch. Whatever you choose, our software allows you to create your entire quiz with a point and click editor and without needing help from developers.
Click here for the complete guide on how to make a quiz.
Once your quiz is created, you can promote your quiz on Facebook or your website by posting a unique URL that we give you or by embedding your quiz on a landing page.
Conclusion and How to Protect Yourself
In this article, I shared with you 5 different ways businesses are using quizzes to capture and monetize your data. For the far majority of quizzes, they are ethically created and used for legitimate marketing purposes.
The Facebook Cambridge Analytica scandal was definitely an outlier in quiz marketing. While it's brought much more focus on Facebook quizzes, it has hopefully helped to educate you about your privacy and not scared you from using Facebook quizzes or the internet in general.
Just remember, when it comes to quizzes (or anything you do online), the answers or personally identifiable information you provide will most likely be stored and used for marketing purposes.
If you are a business and want to create your own Facebook quiz, click the button below to sign up for a free trial to LeadQuizzes!