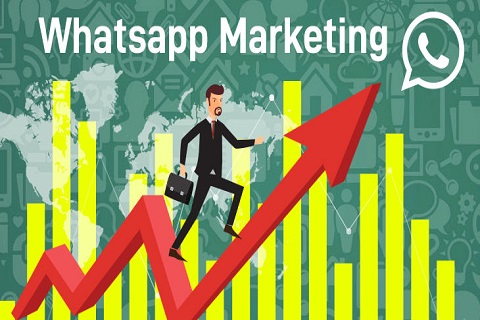 Whatsapp Marketing can help you get good results. The app is used by many and it is the preferred mode of communication. Below we discuss on few whatsapp marketing strategies.
WhatsApp –
WhatsApp has many features that other social platforms do not that benefit your company and can improve your marketing efforts.
Around 70 percent of messages on the site are actually opened. Those numbers are much better than just about any email marketing platform!
You also won't have to pay to promote your posts or to get higher visibility with your followers, like you have to do with other social media platforms
WhatsApp –
Primarily, the drawback to WhatsApp is that it was made for personal messaging and not brand marketing.
With the whatsapp marketing software, the sending time is delayed and its tedious. Everytime you send bulk message over whatsapp, you will need a dedicated sim card mobile number. There are also restrictions on how many messages you can send per hour.
You have to use a mobile number to use WhatsApp, and you will have to encourage users to opt-in to receiving your messages, which may be tricky at first. So gather more subscribers to message you at first.
Broadcast lists are limited to 256 people. That doesn't meant that you can't contact more people than that — it just means that you will have to create multiple lists to do so. Lot of manual work required for this to be tedious and time-consuming.
Because WhatsApp was not created for businesses, it also does not have in-depth analytics. It only shows what messages have been sent and received.
Group chats let you message with up to 256 people at once, sharing messages, photos, and videos.
WhatsApp Marketing Strategy
Try to get more and more users to message you on the one and only dedicated company whatsapp number. A good way to get subscribers and later notifications can be sent through this. While WhatsApp isn't as feature-rich as Facebook Messenger for marketing, it is moving in that direction.
WhatsApp has launched a Business App they say was "built with the small business owner in mind." The app is free to download, and currently only available for Android devices. It allows businesses to easily interact with customers by using tools to automate, sort, and quickly respond to messages.
Setup your whatsapp for business
Start your facebook ads to whatsapp
To send Whatsapp Marketing messages, either you have the database, or you want to use our database. This whatsapp marketing strategy can help you reach your customers beyond emails and it has higher response rates. Contact us to know more about the whatsapp marketing tool software.
Mukesh Pandey is a Digital Marketing Strategist. He is Google Ads Certified and learning and helping to improve social media marketing results for companies. He has trained over 200 executives and business owners for last 5 years. He also founded Leads Dubai which is a Lead Generation Company in Dubai.
Know more about Mukesh on Linkedin