In the ever-evolving social media landscape, Instagram continues to be a platform with incredible business potential for brands.
While Facebook's recent changes have made it even harder for companies to appear in the News Feed without investing serious funds, Instagram (which Facebook owns) offers an appealing alternative. With features like Stories, new ad options for brands, and its visual nature, Instagram is a great fit for content marketing.
According to Instagram, more than 80 percent of its 800 million monthly users follow a selection of 25 million registered business accounts; 200 million people visit business profiles every single day. What's more, the social network's data shows that "two-thirds of profile visits to businesses come from people who aren't following that business," which means the sky's the limit when it comes to attracting new fans, followers, and, ultimately, customers.
Marketers can incorporate Instagram strategies into their content marketing programs to achieve a range of goals. Here's where to start:
Goal: Building an engaged community of loyalists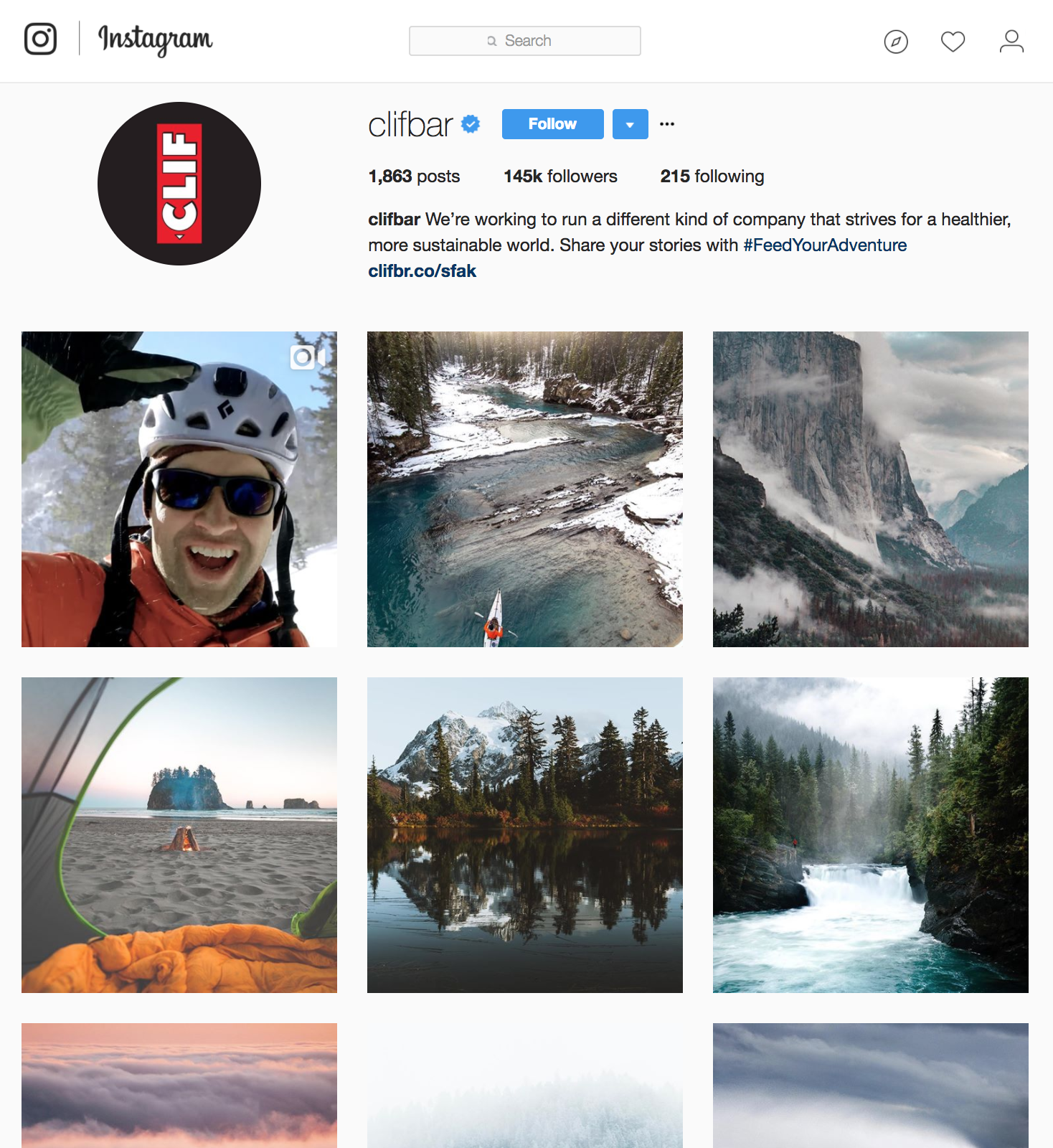 Strategy: Cultivate personalized lines of communication with your target audience.
In Action: The Infatuation was a brand that early on realized Instagram's interactive power. By encouraging and rewarding people for creating user-generated content (UGC) and crowning it with the hashtag #EEEEEATS, The Infatuation grew its fledgling community to millions of engaged followers across dozens of accounts. "A lot of brands get caught up in using Instagram as just another place to advertise or promote whatever you're doing," Co-founder Andrew Steinthal told us last year. "But if you can find a way to engage an audience in a two-way conversation and make them part of your world, there's so much more value in that."
Today, plenty of brands share user photography, fan art, and other UGC visuals on social media as a way to populate their feeds and further develop, attract, and absorb their audiences. After all, 60 percent of us see UGC as the most authentic (and therefore influential) content. So it's no surprise that with more than 145,000 followers, Clif Bar's Instagram account consists of breathtaking nature and outdoor captures – all contributed entirely by enthusiastic fans under the hashtag #FeedYourAdventure. The result? Amazing visuals, straight from the source. And an audience that feels seen, heard, and appreciated.
Consider: "One-on-one communication is so important, especially in the beginning," says Steinthal. Remember: "You want to connect with people on a personal level, so they'll champion your brand. Talk to people the way you talk to your friends, not like a programmed media robot."
Goal: Boosting brand awareness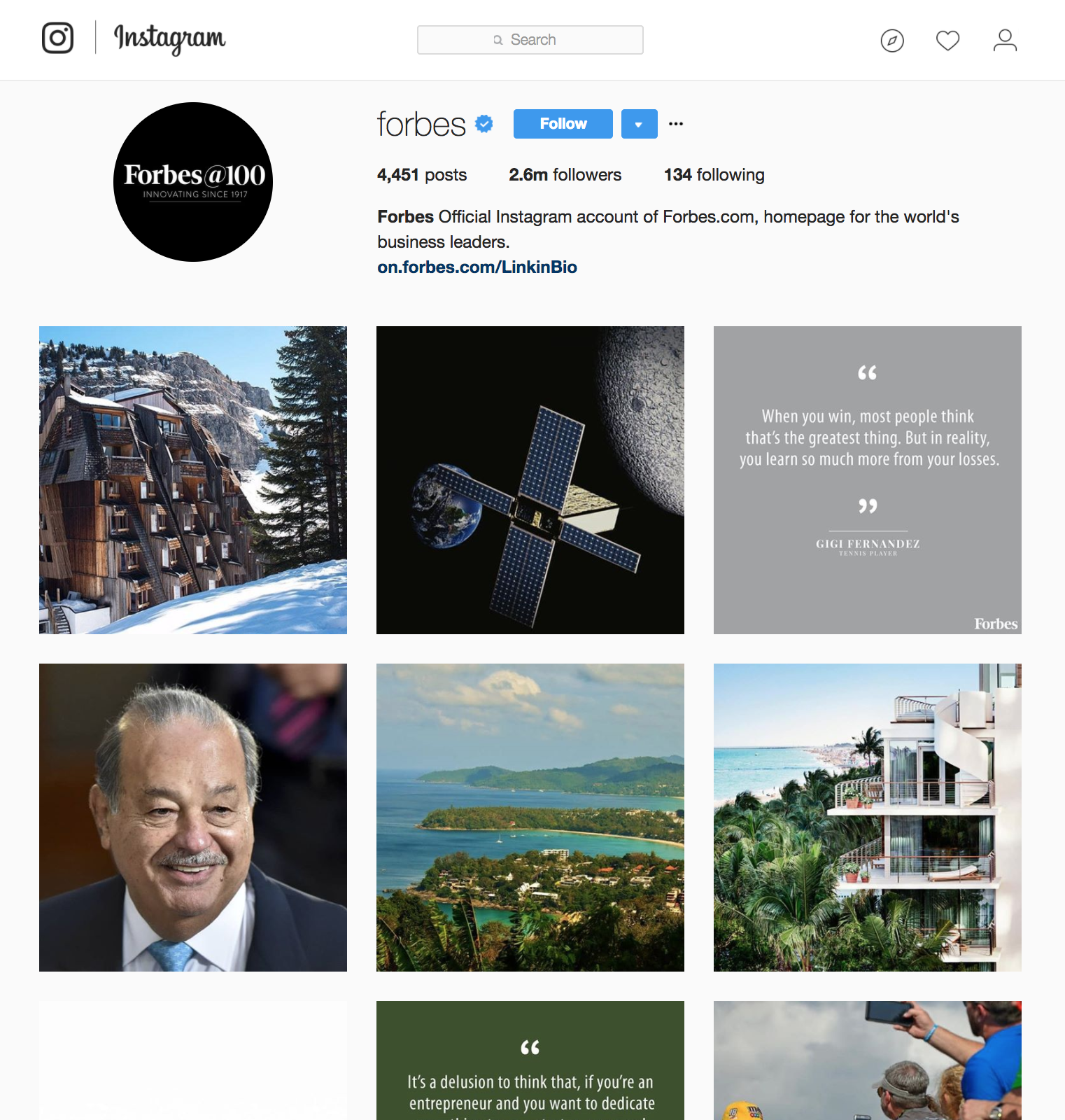 Strategy: Invest in social media influencer marketing.
In Action: "Influencers are driving real and measurable value to brands," says Mae Karwowski, CEO and Founder of influencer marketing agency Obviously. "But it's really important that brands are working with the right ones." According to Karwowski, identification, management, and measurement are the three most important factors brands need to consider when working with social media influencers. They need to analyze potential influencers' followers, honing in on online behavior and engagements levels – likes, comments, and click-throughs – as well as demographic details and general interests to make sure they match up with those of their own target audiences.
Then, it's onto creative campaigns and experimenting. From brand mentions to sponsored posts and in-depth reviews, influencers are able to shine a spotlight on brands, products, and services, leveraging the trust they've already gained from their followers to inspire them to try the item or company out for themselves. Forbes reports "dramatically boosted" numbers on Instagram following account takeovers by the likes of supermodel Karlie Kloss, alt R&B star The Weeknd, and dog extraordinaire Doug the Pug, for instance, which helped introduce the publication to new, younger audiences with crossover curiosities – and bump up their follower count to a cool 2.6 million.
Don't worry if you can't afford the Karlie Klosses of the world. Microinfluencers – everyday people who love your brand and can speak authentically as to why – can also be hugely beneficial.
Consider: "You need to be building real relationships with these influencers if you want to keep working with them over the long term," says Karwowski. And "brands have to be capturing, analyzing, and optimizing influencer campaigns based off of the performance of previous campaigns. Create segmented lists of which influencers you should keep investing in, and who to phase out. While this might sound obvious, many brands have trouble doing just that."
Goal: Driving traffic to content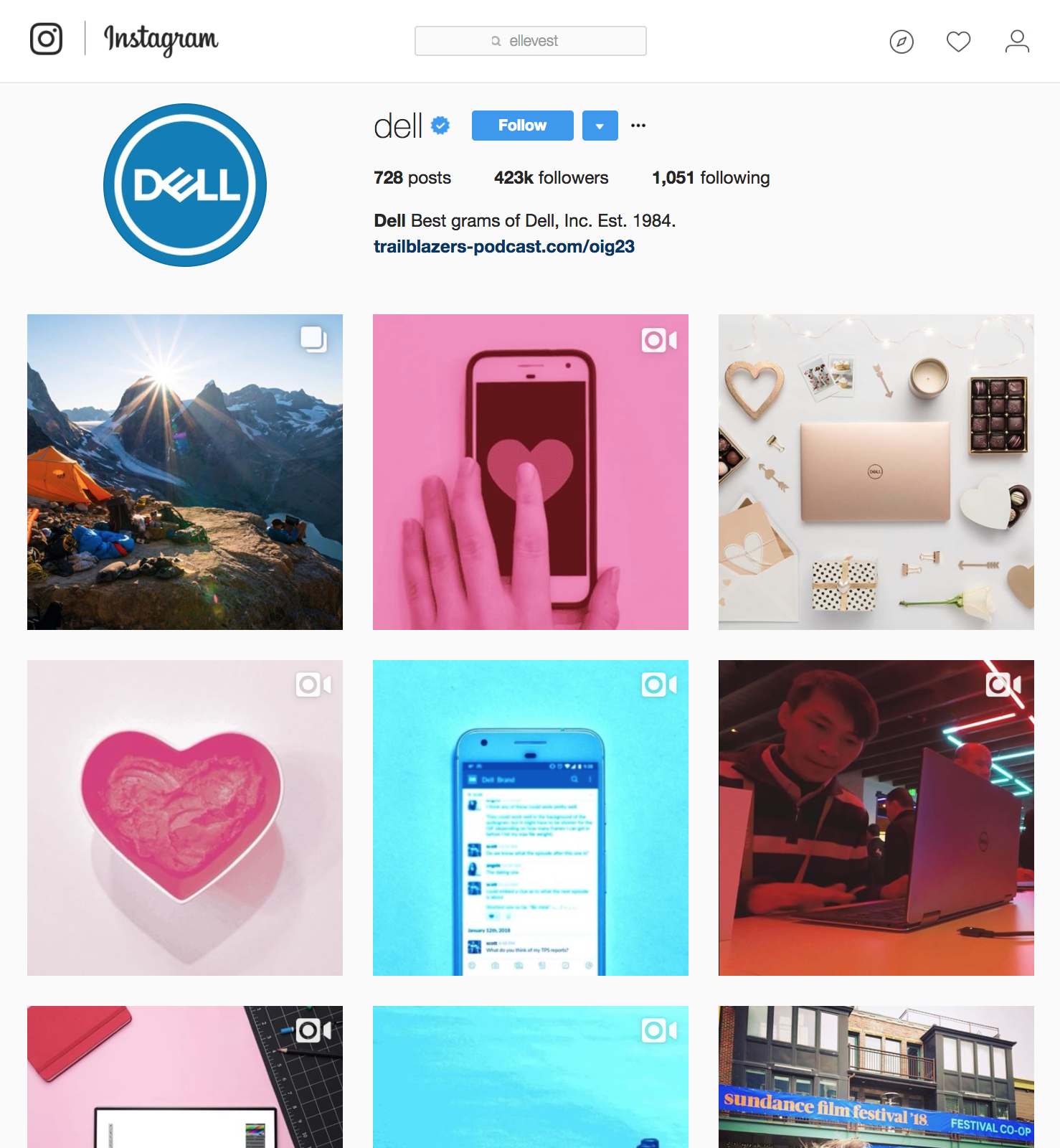 Strategy: A curated feed and expertly crafted Instagram Stories.
In Action: "One really underutilized content type is the Instagram Story," Karwowski says, referring to the feature that's viewed by more than 250 million users on a daily basis.
As the name suggests, Stories really are the perfect storytelling medium. Users can string together photos, videos, GIFs, and graphics into playful and intimate narratives. No matter the industry, an imaginative approach can result in captivating messaging ranging from happening-now events and Q&As, sneak peeks and behind-the-scenes access, product reviews and testimonials, and anything else creative one can come up with. And now, new features like Story Highlights make it possible to keep your best content around for longer, meaning more people can see and engage with it.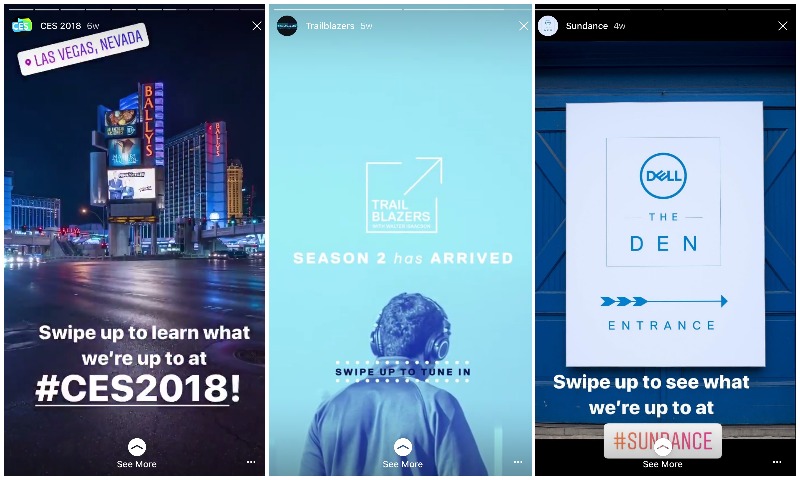 Dell uses Instagram as a key part of its content strategy. In addition to consistent Instagram posts that promote its "Trailblazers" podcast, Dell uses Stories to inform and remind viewers about upcoming episodes and drive traffic to its iTunes playlist. The brand is able to do so directly via the "swipe up" outbound link feature on sponsored stories, which is available to Instagram accounts with more than 10,000 followers. "It can be extremely powerful in driving direct traffic and revenue," Karwowski notes.
Similarly, Ellevest uses its feminism-fueled feed to periodically post snippets from the brand's Ask Sallie video series with CEO and Co-founder Sallie Krawcheck. Appearing on Stories as well – where the brand also features teasers and links back to blog content and a newsletter – the clips are edited to include graphics and captions, which make for higher engagement.
Consider: "A large percentage of brands are overlooking Instagram Stories for one key reason: they're very hard to track for the average company without reporting tools," Karwowski says. "The post disappears after 24 hours and it's usually just a race to capture that content in the first place, let alone to capture engagement as well." Do your homework: There's a range of tools out there that record Stories, making them much easier to track and measure.
Goal: Driving direct sales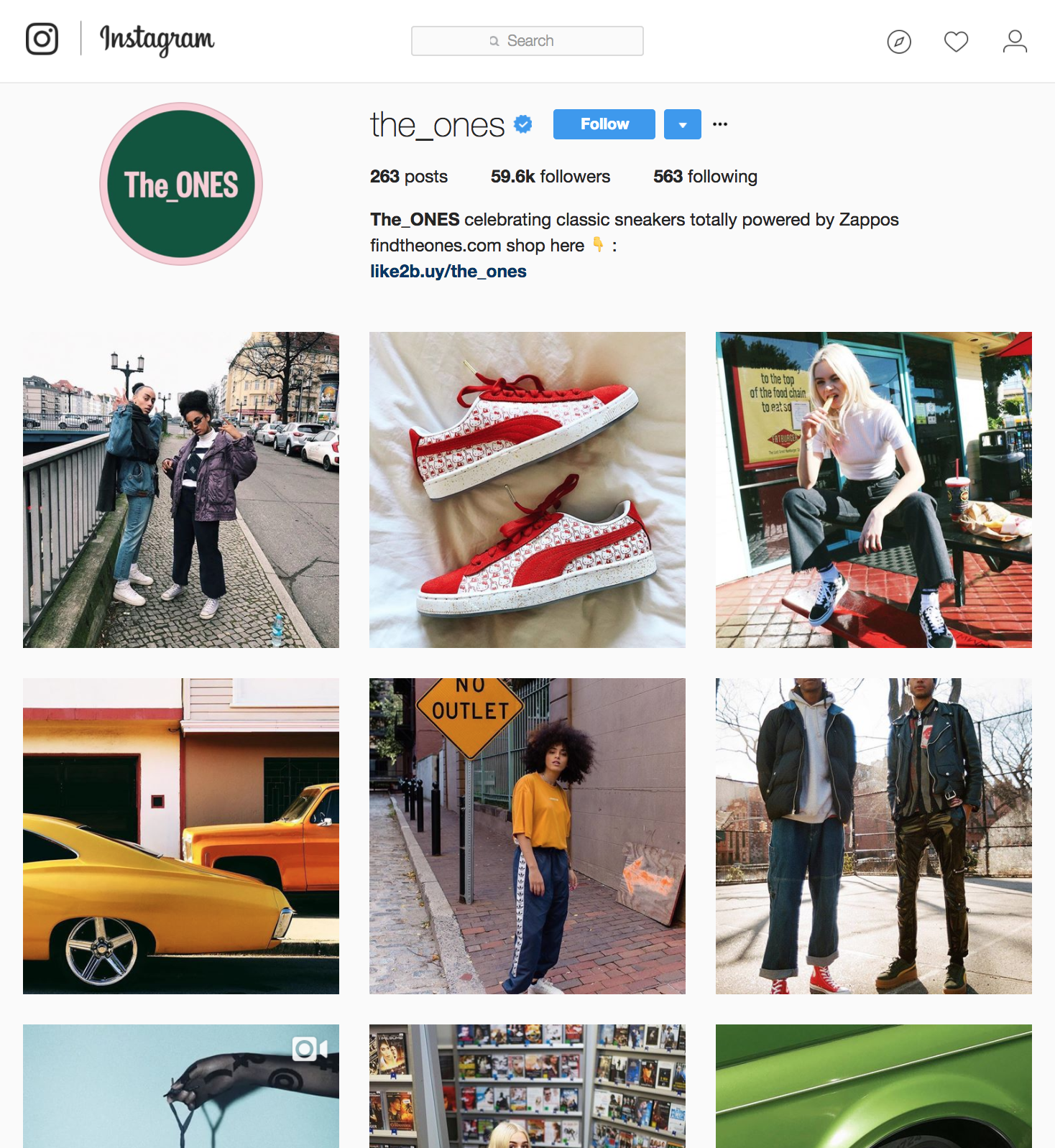 Strategy: Integrate Instagram's new shopping capabilities.
In Action: Last spring, Instagram introduced new shopping capabilities designed to make mobile e-commerce easier and more immersive than ever before for apparel, jewelry, and beauty brands. Shoppable posts sport a tiny shopping bag icon, making it easy for users to spot them and discover the products within. They can only be published as single-photo posts, as opposed to videos and the platform's recently introduced multi-image function. Once there's a product catalog connected to a company's account, tagging an item is as easy as tagging a person in a post.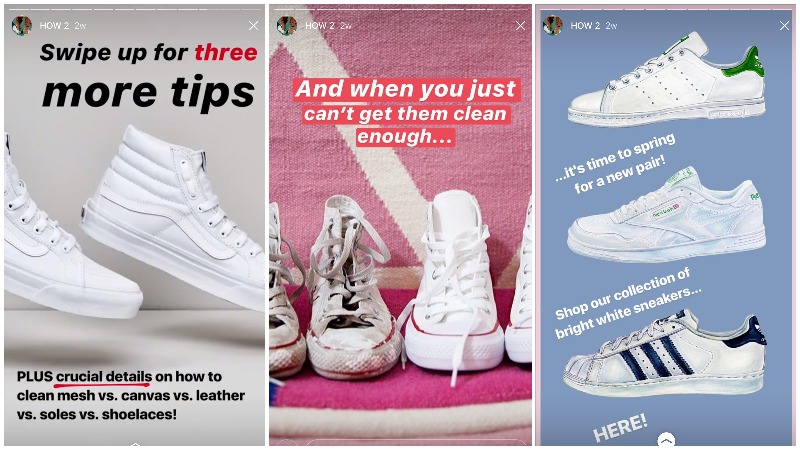 With its "swipe up" feature, Stories become directly shoppable, too. Nowhere does the marriage of content and commerce work so well as on The Ones, Zappos' female-focused content marketing effort devoted to classic kicks. Using images from The Ones' content hub, Zappos has cultivated an effortlessly cool-looking feed along with a running stream of captivating Stories that deliver an exclusive look into the brand's photo shoots, collaborations, and various projects, as well as valuable how-tos and user-generated content. And when the timing's just right, there's a creative and natural prompt to "swipe up" and land on more in-depth stories or a product page for easy purchase.
Consider: Brands can also use Stories to offer coupons and discounts that expire along with the clips, creating a sense of urgency among viewers and encouraging them to take action toward a purchase if they want to get in on the deal. Just be sure to have your tracking and reporting plan in place, since Stories do disappear quickly.
Anastasia Dyakovskaya is a NewsCred Contributor.
Originally published on Feb 26, 2018 11:00 AM, updated Feb 27, 2018